Air Services Limited (ASL) yesterday launched its Guyana Festival Tours programme which will offer more flights to Kaieteur Falls as well as customisable touring packages.
Manager of ASL Annette Arjoon-Martins said the expansion of services was in light of the anticipated increased influx of visitors for the Guyana Festival. Commending Minister of Tourism Irfaan Ali for his initiative to launch the festival, she said, "We feel there will be a demand for these services beginning with this thrust from the Ministry of Tourism. Many of these visitors although Guyanese, will be seeing the falls for the first time, and it's an experience to remember."
In addition to flying to Kaieteur Falls four times a week, the service will offer flights to Shell Beach where visitors may witness the sea turtles nesting, as well as other tours to more remote areas of Guyana.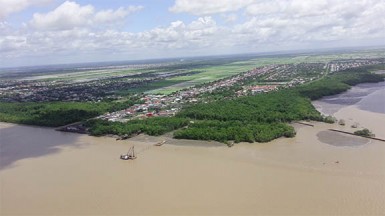 Arjoon-Martins also announced that ASL will have two helicopters stationed at the Providence National Stadium, which will accommodate aerial tours of Georgetown for those who would like to experience it at the festival.
She related that the company's helicopter service, which was previously limited to facilitating gold miners in remote areas has now expanded. She said, "We are positive about the potential for growth in tourism in Guyana, we have so much to offer that is unique."
She said the customisable tours will offer those who wish to participate, the opportunity to fly amongst the country's tabletop mountains for a "bird's eye view of the waterfalls cascading from them." ASL has accommodated the BBC and National Geographic which would have done tours of the country's interior. Arjoon-Martins also noted that the service also facilitated a skydiver who dove out of the plane over Surama village.
Ali noted that "ASL has been a very important part of the tourism sector" as it has played a "dynamic role in ensuring… that visitors have an opportunity to see the wide array of our flora and fauna." He believes that ASL's strides in the field of tourism have presented the sector with new opportunities which according to him is something we need, as this is "what we need to project internationally." Ali said that ASL must be congratulated for its achievements especially since its investment in expansion will "facilitate the promotion of tourism." He believes, that "the active role they have taken to ensure that the Guyana Festival will be a success" is proof of this.
According to Ali, the festival has "taken [on] a life of its own" as it is garnering attention from many areas of the world. He said "the festival will bring together the best of sound, taste, culture and will bring us together as a people."
The minister yesterday received $3 million on behalf of the ministry for the festival from the Guyana Telephone and Telegraph Company.
Comments

Left-arm spinner Ashmead Nedd … picked up a couple wickets in Guyana's win.  

Jerry Lewis   LOS ANGELES,  (Reuters) – Jerry Lewis, the high prince of low-brow comedy on stage and in movies as well as a fund-raising powerhouse with his annual Labor Day telethon, died today of "natural causes" at the age of 91, his family said.

Beharry Automotive Limited (BAL) , the authorised distributor for Toyota parts and lubricants, says that an abundance  of imitation Toyota parts and lubricants have entered the market with the Toyota logo and trademark.

Grace Mugabe   HARARE,  (Reuters) – Zimbabwe's first lady Grace Mugabe returned from South Africa early today, state media reported, after a 20-year-old model accused her of assault in an upmarket Johannesburg hotel room.

Michael Bhopaul, 16, doesn't know if he is this year's best performer at    the Caribbean Secondary Examination Certificate (CSEC) Examinations, but with preliminary results showing that he has obtained passes in 25 subjects, he will be hard to top.