A Kara Kara, Linden man was yesterday remanded to prison after being charged over the possession of drugs found at a house at Grove, East Bank Demerara, including over a tonne of marijuana.
Dexter Daniels was arraigned at the Georgetown Magistrates' Courts on both marijuana and cocaine trafficking charges. No charges were read in relation to the over $1 million in cash that was found during the operation that led to the find but Stabroek News was told that investigations are still ongoing.
The allegation against Daniels is that on July 7, at Lot 9, Section 'C' Grove, East Bank Demerara, he had in his possession 1,213 kilogrammes of cannabis for the purpose of trafficking. He is also alleged to have had 4.222 kilogrammes of cocaine for the purpose of trafficking on the same day.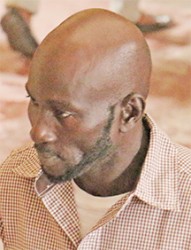 The man denied both charges when they were read to him by Chief Magistrate Priya Sewnarine-Beharry before whom he appeared.
It is alleged that the marijuana was found in a parked truck on the bridge outside the yard, while the cocaine was found on the premises, under a mattress in a bedroom.
When asked by the court, Special Customs Anti-Narcotics Unit (CANU) Prosecutor Oswald Massiah said that the facts were as charged after which no further details of what transpired on the day in question were presented to the court.
Daniels was unrepresented by counsel.
The case was transferred to the Providence Magistrate's Court for July 14.
Although a second person was held after the successful operation, Daniels was the sole defendant yesterday. The seizure of the marijuana, said to be high grade, is the biggest seizure for the year by CANU.
Comments

Attorney, Dr Arif Bulkan is to be sworn in as an acting Justice of Appeal tomorrow.

GPL says that some of its customers on the West Coast and East Bank of Demerara experienced unusually lengthy power cuts as a result of heavy winds and rain last evening and early this morning.

Alliance for Change (AFC) leader Raphael Trotman yesterday said the diversion of billions to the security sector after the destruction of the Camp Street prison was partly responsible for the government not budgeting the full sum for severance payments to laid off sugar workers.

The police were up to yesterday afternoon still working to ascertain the motive behind the murders of Ambrose Baharally and Martin Godette, the Pomeroon farmers who were shot dead on Sunday and a potential witness was taken into custody to assist with the investigation.

Former President Donald Ramotar has accused the current government of accepting loans from India that he initiated except those pertaining to the rehabilitation of the sugar industry but State Minister Joseph Harmon says he is unaware of the claim and has urged that the former head of state prove it.