An elderly woman died after she was struck down and run over by a lorry on Monday at the intersection of Avenue of the Republic and Robb Street.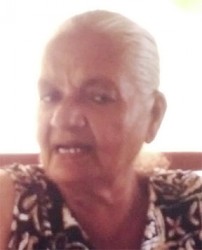 Dead is Rajmatti Ram, 73, of Triumph, East Coast Demerara.
A police press release stated that the incident occurred at about 14:30h on Monday. According to the police, investigations have revealed that Ram, who was pronounced dead on arrival at the Georgetown Public Hospital (GPH), was struck down by a motor lorry.
Ram's daughter Bonita Ram, said that Ram was with her seven-year-old grandson at the time of the accident. Bonita said that Ram pushed her grandson out of the lorry's way and took the full impact. Bonita said she has since learnt that her mother's neck was broken. She said that a post mortem examination will be conducted today.
Ram who is scheduled to be cremated, is survived by her children, grandchildren and siblings.
The driver is in police custody assisting with the investigations, the police said.
Comments

Fifteen city councillors voted yesterday in favour of accepting the recommendations of the parking meter renegotiation committee, which would see a reduction in parking fees to $150 per hour, exemptions for religious organisations and schools, and Smart City Solutions (SCS) giving up on their claim to garage parking.

A GDF rank was yesterday remanded to prison over three armed robbery charges and alleged possession of an unlicensed gun and ammunition.
Minister of Natural Resources and Leader of the Alliance for Change (AFC), Raphael Trotman on Monday praised ExxonMobil for investing in the oil sector here and said it is now resulting in other important companies wanting to do business here.

The city lance corporal, who on Sunday allegedly shot and killed Marlon Fredericks, a mentally-challenged vendor, after he reportedly attempted to flee custody is to be charged with manslaughter.

Former Magistrate and Univer-sity of the West Indies (UWI) lecturer Christopher Arif Bulkan was yesterday sworn in as a temporary Appellate Judge by President David Granger who said that the appointment is part of efforts to ensure that justice is dispensed in an efficient and timely manner.