A Central Rupununi miner caught with nearly 800 grammes of cannabis on his pedal cycle, is now a remanded prisoner after he appeared in the Georgetown Magistrates' Courts yesterday.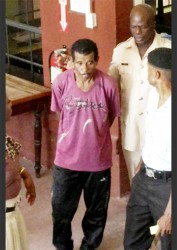 Godfrey Jonas, 55, of Nappi Village, denied that on July 14, at Aranaputa Valley, North Rupununi he had 775g of cannabis in his possession for the purposes of trafficking. He appeared before Chief Magistrate Priya Sewnarine-Beharry.
It is the police's case that Jonas on the day in question had suspected cannabis wrapped in a camouflage top, in a yellow and black bag on his pedal cycle.
According to Police Prosecutor Bharat Mangru, police acting on information, went to the defendant's home, where he was seen removing a bag from his cycle. The ranks then approached Jonas, examined the bag and found leaves, seeds and stems that they suspected to be cannabis. Mangru added that Jonas was told of the offence, arrested and later slapped with the drug trafficking charge. The cannabis was later weighed, Mangru stated.
Mangru objected to bail on the grounds that no special reason was offered by Jonas, who was unrepresented.
The Chief Magistrate subsequently remanded Jonas to prison and transferred the matter to the Lethem Magistrate's Court.
The case will be called again on September 1.
Comments

Following an outreach in Lethem today, President David Granger (centre at left side of table) held a  high-level security meeting with a number of officials including Guyana Defence Force Chief of Staff, Brigadier Patrick West (third from right on right side of table) and British security sector reform advisor Russell Combe (second from right on right side of table) among others.

The Guyana Power and Light (GPL) says that just after midday today, three armed bandits stormed its Parika Customer Service Centre; robbing the location of all revenues received up until that time, holding the  staff and customers at gun point and disarming a security guard of a gun.

The Management of Cheddi Jagan International Airport Corporation (CJIAC) is currently undertaking a massive expansion project  and a Temporary Arrivals Terminal Building was recently constructed.

Tourism Minister Shamfa Cudjoe announced the decision to close the company. (Trinidad Express) The Tourism Development Company (TDC) has ceased operations.

Cevons clearing city garbage WPA STATEMENT ON THE UNRESOLVED ISSUE OF GARBAGE COLLECTION IN THE GEORGETOWN MUNICIPALITY The WPA is deeply concerned that the Georgetown City Council's inability to honour its financial obligations to Cevons Waste Management and Puran Brothers has the potential of endangering the health and lives of citizens.