Despite a court ruling nullifying the recent birth certificate requirement for passport applications, the Central Immigration and Passport Office is asking all applicants to produce birth documents issued no more than two years ago.
In June, the Ministry of Home Affairs had issued an advisory stating that persons applying for a machine readable passport for the first time were required to submit a birth certificate issued no more than six months prior to the date on which the application was being made. This advisory was later amended to two years instead of six months. However, in the interim, attorney Saphier Husain challenged the six-month requirement and acting Chief Justice Ian Chang last week made an absolute order directed to the Chief Immigration Officer, who is also Police Commissioner (ag) Seelall Persaud, quashing a decision that the attorney must produce a birth certificate issued within the last six months. Justice Chang also commanded Persaud and his agents to accept Husain's birth certificate, which was issued in 2004, and to issue a machine readable passport to him.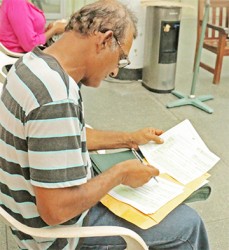 However, up to yesterday, visitors to the Central Immigration and Passport Office on Camp Street were still being informed of the requirement. When questioned, an immigration officer reiterated this information and told Stabroek News that no court ruling had been relayed to staff from superiors. Hence, he said, the immigration office was still functioning with the old requirement.
At the General Register's Office, the same information was being related. Though Registrar General Greta McDonald refused to speak with this publication, a staff member, when asked, confirmed that a recent birth certificate was necessary for one to obtain a passport.
At the Guyana Post Office Corporation (GPOC), where birth certificate forms could be uplifted, several persons were observed filling out forms. Most likely due to high demand, fewer than a dozen forms were available.
One woman explained that in the morning she had visited the immigration office to apply for a new passport, only to be told that her birth certificate was "outdated." The clearly frustrated woman added that her birth certificate had been issued only four years ago.
Another man told Stabroek News that he was avoiding the urgency and applying for a new birth certificate now. "My passport expires until next month so I'm doing this now," he said. He continued, "I don't know what they're doing with this new requirement. I would understand if the birth certificates are badly torn and would need replacing."
Showing his current birth certificate, he said that it was issued about six years ago and is still in good condition. His current birth certificate, he further said, had taken him about three months to receive after applying for it.
Speaking with Stabroek News yesterday following the PPP's weekly press conference at Freedom House, Minister of Home Affairs Clement Rohee said that the requirement was only for first-time passport applicants. "This is only for first applicants; persons who are applying for the first time for a passport," Rohee said. "If you've never ever had a passport before and you're applying for the first time, then is when you need the birth certificate."
However, persons visiting the Central Immigration and Passport Office who previously held machine-readable passports are being told that the two-year birth certificate requirement also applies to them. One man, Bramanan Ramroop, told this newspaper that soon after the court ruling had been made, he had gone to the immigration office to renew his passport. However, he was also told that he would require a new birth certificate.
He emphasised that he had previously been in possession of a passport and had been re-applying for one when he was refused.
"This is contempt of court," a disgusted Ramroop said. "I was told by an immigration officer that his department has no ruling on the requirement as yet."
When contacted to comment on just why the immigration office had not yet implemented the court's ruling, Minister Rohee diverted the question to the Chief Immigration Officer. However, Persaud declined to provide information when contacted.
Rohee had indicated that the decision was made amidst concerns of fraudulent birth certificates being used to obtain travel documents.
The new two-year requirement is now being challenged in the court by city businessman Gainlall Sookraj, who contends that there is "no law, regulation, rule, publication in the Official Gazette, official publication in any newspaper circulating in Guyana requiring a birth certificate issued within the last two years as a prerequisite to the issue of a passport.
Sookraj's challenge also rests on the argument that his birth certificate was issued under the Registration of Births and Deaths Chapter 44:01 of the Laws of Guyana and cannot be invalid except by law or amendment of the constitution.
Comments

LONDON, (Reuters) – The gradual decline of West Indian cricket is hardly a new phenomenon but the latest capitulation of a once-dominant test match power has brought genuine expressions of sadness throughout the sport.

Eleven residents of the juvenile correctional centre at Onderneeming on the Essequibo Coast were apprehended between yesterday and this morning.

With growing pressure on the government over the overcrowding of jails, MP Michael Carrington is confident that the parliamentary bill in his name to ease penalties on marijuana use will gain the support of the governing APNU+AFC benches of which he is a member.
The National Toshaos Council (NTC) is to begin its conference today and high on the agenda will likely be ongoing concerns about the lands commission of inquiry (CoI) which the government has convened.
A Trinidad-based medical products company has secured four contracts worth $135.4m. According to the Ministry of the Presidency (MotP), Cabinet at its meeting on August 15,2017 noted the award of 16 multi-million-dollar contracts.