The Alliance for Change submitted its no-confidence motion against the government to the Clerk of the National Assembly, Sherlock Isaacs this afternoon.
Vice-Chairman of the party, Moses Nagamootoo signed the motion as the proposer minutes to 14:00 hrs, prior to the party's Treasurer, Dominic Gaskin and General Secretary, David Patterson submitting the motion at the Clerk's office around 14:30hrs. AFC MP Cathy Hughes seconded the motion.
Nagamootoo said that last evening he spoke with Leader of the Opposition, David Granger at which point the AFC made it clear that the motion was being submitted either today or tomorrow.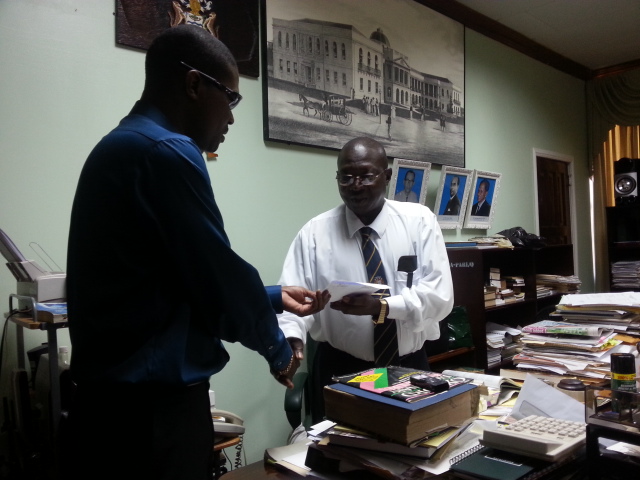 Gaskin told Stabroek News that yesterday it was decided by the AFC that the motion would be submitted today. He said that it was always the intention of the party to have the motion submitted prior to the Parliamentary recess which is set to commence on August 10.
The clerk will now have to rule on when the motion can come up for debate. If passed the motion of no-confidence will trigger fresh general elections.
A statement from the AFC this afternoon said  the party "having received confirmation of support for this motion from A Partnership for National Unity (APNU) would hope that the motion would be debated in the new October 2014 parliamentary session."
Comments

(Trinidad Guardian) Education Minister Anthony Garcia says the University of Trinidad and Tobago (UTT) is of the view that the organisation is "overstaffed and to run the university efficiently it will mean they have to trim fat." But former Tertiary Education Minister Fazal Karim is warning that the decision to retrench 287 staff members, will "compromise the quality of teaching and learning and administration at the university," and may impact its accreditation with the Accreditation Council of Trinidad and Tobago (ACTT).

In preparation for Guyana's emerging oil and gas sector and the bustling business usually synonymous with the industry, the Pegasus Hotel is expected to undergo a huge expansion which includes office and residential rental spaces.

Police Commissioner Seelall Persaud is to resume his duties today after spending approximately six months on leave, Public Security Minister Khemraj Ramjattan yesterday confirmed to Stabroek News.
The Alliance For Change (AFC) yesterday launched a scathing attack on the union GAWU, accusing it of decades of sabotage of the sugar industry and not genuinely representing the interests of its workers.

The importance of foot health, especially for persons with diabetes, was emphasized by Podologist Yvonne Braithwaite yesterday, when she launched the local leg of Rovon Health Care Inc, which includes a foot spa.