Gunman in Strathspey robbery identified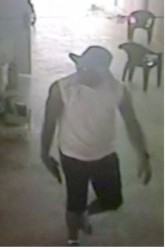 The gunman who robbed an auto dealership at Strathspey on Tuesday has been positively identified by a victim and is to be arraigned in court shortly.
Two other persons are also likely to be charged alongside the fingered man.
Police, however, have not recovered any firearm or the stolen cash.
Two bandits had robbed Surrendra and Sons Auto Dealership and Home Furnishings of an undisclosed sum of cash at midday on Tuesday, but were shortly after apprehended by the police after the proprietor acted on information his wife gave him and followed the alleged robbers. The two suspects were nabbed in another vehicle along Mandela Avenue in Georgetown.
Wife of the proprietor, Oma Persaud and a worker, who were the only persons at the business at the time, were the victims of the robbery.