KIEV (Reuters) – Ukraine's new president Petro Poroshenko said his country would never give up Crimea and would not compromise on its path towards closer ties with Europe, spelling out a defiant message to Russia in his inaugural speech yesterday.
The 48-year-old billionaire took the oath of office before parliament, buoyed by Western support but facing a crisis in relations with Russia as a separatist uprising seethes in the east of his country.
Russia annexed the Crimean peninsula in March, weeks after street protests ousted Poroshenko's pro-Moscow predecessor Viktor Yanukovich, in a move that has provoked the deepest crisis in relations with the West since the Cold War.
"Citizens of Ukraine will never enjoy the beauty of peace unless we settle our relations with Russia. Russia occupied Crimea, which was, is, and will be, Ukrainian soil," Poroshenko said in a speech that drew a standing ovation.
He said he had delivered that message to Russian President Vladimir Putin when the two met on Friday at a World War Two anniversary ceremony in France.
There is no prospect of Russia reversing its takeover of Crimea, but in what could be a positive signal from Moscow, Russian news agencies reported Putin had ordered the Federal Security Service to strengthen protection of the border with Ukraine and prevent people crossing illegally.
The move was potentially significant because Ukraine and Western governments have been pressing Moscow to stop what they say is a flow of Russian arms and fighters into eastern Ukraine.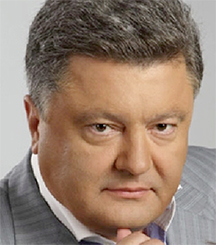 Russia denies it is backing the uprising but journalists have encountered Russian nationals among the separatist ranks.
Poroshenko, who earned his fortune as a confectionery entrepreneur and is known locally as the "Chocolate King", said he intended to sign the economic part of an association deal with the European Union as a step towards full membership.
That idea is anathema to Moscow, which wants to keep Ukraine in its own post-Soviet sphere of influence.
His voice swelling with emotion, Poroshenko stressed the need for a united Ukraine and the importance of ending the conflict that threatens to further split the country of 45 million people. He said it would not become a looser federalised state, as advocated by Russia.
"There can be no trade-off about Crimea and about the European choice and about the governmental system. All other things can be negotiated and discussed at the negotiation table. Any attempts at internal or external enslavement of Ukraine will meet with resolute resistance," he said.
Since Poroshenko's election, government forces have stepped up their operations against the separatists who want to split with Kiev and join Russia. The rebels have fought back, turning parts of the Russian-speaking east into a war zone.
Poroshenko offered to provide a safe corridor for Russian fighters to go home. "Please, lay down the guns and I guarantee immunity to all those who don't have bloodshed on their hands."
Switching from Ukrainian into Russian, he promised to visit the east with guarantees of Russian-language rights and proposals for decentralisation that would give its regions a bigger say in running their own affairs.
But a scornful response from the rebels, who have declared their own "people's republics", spelled out the scale of the separatist challenge facing him.
"What they (Kiev's leaders) really want is one-sided disarmament and for us to surrender. That will never happen in the Donetsk People's Republic," a top separatist official, Fyodor Berezin, said by telephone from Donetsk, an industrial hub where rebels have occupied strategic points.
"As long as Ukrainian troops are on our soil, I can see that all Poroshenko wants is subjugation. The fight will continue."
Poroshenko won a landslide election on May 25 after promising to bridge the east-west divide that has split the country and thrust it into a battle for survival.
Many Ukrainians hope the election of the former government minister, who is married with four children, will bring an end to the most tumultuous period in their post-Soviet history.
Around the Web