WASHINGTON, (Reuters) – U.S. House Majority Leader Eric Cantor of Virginia lost to a Tea Party challenger yesterday in a stunning Republican primary upset that sent shockwaves through Congress and gave the conservative movement a landmark victory.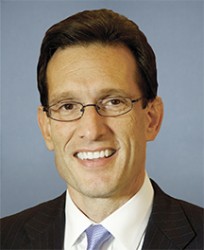 Cantor, the No. 2 Republican in the House of Representatives, was easily beaten by college economics professor David Brat, who had argued Cantor had betrayed conservative principles on spending, debt and immigration.
Cantor had been seen by many as an eventual successor to House Speaker John Boehner, and his loss eventually will mean a shake-up in Republican leadership among House members already nervous about the depth of public anger toward Congress.
With nearly all precincts reporting, Brat had about 56 percent of the vote to Cantor's 44 percent.
A seven-term congressman, Cantor had spent more than $5 million to head off the challenge from Brat, a political newcomer who teaches at Randolph-Macon College. Brat spent about $122,000, according to the Center for Responsive Politics.
The result is likely to halt any efforts to craft a House immigration reform bill, as nervous Republicans hustle to protect themselves against future challenges from the right ahead of the Nov. 4 midterm elections. It could also make Republicans even more hesitant to cooperate with President Barack Obama and Democrats for fear of being labeled a compromiser.
Around the Web