BAGHDAD, (Reuters) – Iraq's most senior Shi'ite Muslim cleric urged followers to take up arms against a full-blown Sunni militant insurgency to topple Shi'ite Prime Minister Nuri al-Maliki, a conflict that threatens civil war and a possible break-up of the country.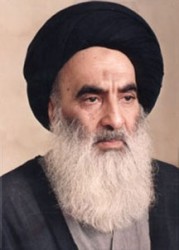 In Washington, U.S. President Barack Obama said he was reviewing military options, short of sending combat troops, to help Iraq fight the insurgency but warned any U.S. action must be accompanied by an Iraqi effort to bridge political divisions.
In a rare intervention at Friday prayers in the holy city of Kerbala, a message from Grand Ayatollah Ali al-Sistani, who is the highest religious authority for Shi'ites in Iraq, said people should unite to fight back against a lightning advance by militants from the radical Islamic State of Iraq and the Levant.
Fighters under the black flag of ISIL are sweeping south towards the capital Baghdad in a campaign to recreate a mediaeval caliphate carved out of fragmenting Iraq and Syria that has turned into a widespread rebellion against Maliki.
"People who are capable of carrying arms and fighting the terrorists in defence of their country … should volunteer to join the security forces to achieve this sacred goal," said Sheikh Abdulmehdi al-Karbalai, delivering Sistani's message.
Those killed fighting ISIL militants would be martyrs, he said as the faithful chanted in acknowledgement.
Amidst the spreading chaos, Iraqi Kurdish forces seized control of Kirkuk, an oil hub just outside their autonomous enclave that they have long seen as their historical capital, three days after ISIL fighters captured the major city of Mosul.
There are concerns that sectarian and tribal conflict might dismember Iraq into Shi'ite, Sunni and Kurdish entities. The atmosphere in Baghdad was tense on Friday, the streets were empty, residents were stock-piling food and arming themselves.
Reflecting fears that ISIL's insurgency could erupt into a civil war and disrupt oil exports from a major OPEC member state, the price of Brent crude oil edged further above $113 a barrel on Friday, up about $4 since the start of the week.
 MALIKI MUST ACT
Obama told reporters at the White House he would not send U.S. troops back into combat in Iraq but had asked his national security team to prepare "a range of other options" to help Iraqi security forces confront fighters from ISIL. He made clear he expected steps toward Iraqi political reconciliation.
"The United States is not simply going involve itself in a military action in the absence of a political plan by the Iraqis that gives us some assurance that they are prepared to work together," he said.
The U.S. president was facing a chorus of criticism from Republican opponents who say that his missteps in responding to the Syrian civil war and dithering on Iraq has left the United States with few options.
Around the Web