(Reuters) – James Brady, a former U.S. presidential press secretary who became a leading gun control crusader after he was critically wounded in an assassination attempt on President Ronald Reagan, has died, a family spokeswoman said yesterday. He was 73.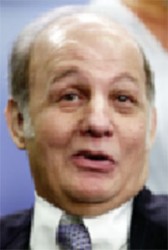 The attack on Reagan in 1981 left Brady partially paralyzed due to brain damage. His family said in a statement he died Monday morning after a series of health issues at a retirement community in Alexandria, Virginia, where he had been living for the past year and a half.
Brady spent the rest of his life in a wheelchair after being shot, but he and his wife, Sarah, campaigned for a gun law that would be known as the "Brady bill." The law, which was passed in 1993, required a mandatory five-day waiting period for purchase of handguns and also background checks for would-be gun buyers.
"As a result, countless lives have been saved. In fact, there are few Americans in history who are as directly responsible for saving as many lives as Jim," said Dan Gross, president of the Brady Campaign to Prevent Gun Violence. Reagan was two months into his presidency when John Hinckley Jr. drew a $29 handgun outside a Washington hotel and wounded the president, Brady, a Secret Service member and a Washington police officer.
Around the Web