ANKARA/BAGHDAD, (Reuters) – Regional power broker Iran believes Iraqi Prime Minister Nuri al-Maliki is no longer able to hold his country together and is looking for an alternative leader to combat a Sunni Islamist insurgency, senior Iranian officials said yesterday.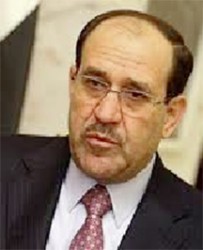 Political deadlock since an inconclusive general election in April has paralysed efforts to fight back against Islamic State rebels who have captured swathes of northern and western Iraq and Syria and have threatened to march on Baghdad.
One Iranian official, who spoke to Reuters on condition of anonymity, said Tehran was working with Iraqi factions to seek a replacement for Maliki, but there were few viable alternatives.
"We have reached the conclusion that Maliki cannot preserve the unity of Iraq anymore, but Ayatollah (Ali) Sistani still has hopes," said the Iranian official, referring to Iraq's top Shi'ite cleric.
"Now, Ayatollah Sistani also backs our view on Maliki."
"There are not many candidates who can and have the capability to preserve unity of Iraq. Our ambassador to Iraq has had some meetings in the past days with relevant groups and some of the candidates," the first Iranian official said.
Political allies said Maliki, seen as an authoritarian figure whose sectarian agenda has destabilised Iraq, had no intention of stepping aside despite mounting pressure from Sunnis, Kurds, some fellow Shi'ites and now Iran.
Maliki, a relative unknown when he came to office in 2006, has stayed on in a caretaker capacity since the April vote and said he would seek a third term, despite widespread opposition.
An Iraqi minister, speaking on condition of anonymity because of sectarian tensions within the caretaker government, confirmed that there was a marked change in the position of Tehran, the biggest foreign influence in Iraq.
The United States has urged Iraqi politicians to form a more inclusive government that can unify Iraqis and take on the Islamic State, the al-Qaeda spinoff that swept through the north in June, almost unopposed by Maliki's U.S.-trained army.
The task gained more urgency over the weekend after the group captured three more towns and a fifth oilfield and reached a major dam after routing Kurdish fighters, who were seen as one of the few forces that could stand up to the militants.
 CALIPHATE
The Islamic State, which has declared a caliphate in parts of Iraq and Syria it controls, poses the biggest threat to Iraq's security since the fall of Saddam Hussein in 2003 in a U.S.-led invasion.
A senior Iranian security official said Tehran was far more concerned with stabilising Iraq than with standing by Maliki, whom it long supported.
"With Maliki in power, Iraq will be divided. To fight against the Islamic State, Iraq needs a powerful government and we back this idea. A divided Iraq is a threat to Iran's national security," the second official said.
Around the Web