SHAWPARK, Tobago, CMC– Captain Dwayne Bravo and former captain Denish Ramdeen choreographed a middle innings revival to complement destructive bowling from Ravi Rampaul and Sunil Narine as Trinidad and Tobago rebounded with a vengeance to crush Leeward Islands by five wickets in the NAGICO Super50 match at Shaw Park here yesterday.
Bravo and Ramdeen staged a 65 run fourth wicket stand to swing the homeside back on course after slumping to 75 for four, chasing a winning target of 141 set by the Leewards.
Narine grabbed four wickets for 17 runs and Rampaul four for 20 to bowl out the Leewards for 140 after they had won the toss and elected to bat.
Trinidad, desperate for their first victory since losing by 28 runs to Barbados in their opening game, suffered an early setback, losing opener Adrian Barath in the first over.
Lendl Simmons attempted to steady the slide scoring 25 while three wickets fell before 100 runs came up as Leewards tried to pile on the pressure.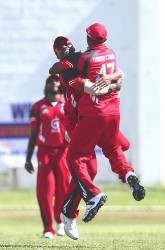 But the Trinidadians recovered when Bravo hit three sixes and four fours in a top score of 42 from 37 balls, Ramdeen was unbeaten on 22 while Dwayne's brother Darren contributed the same score.
Gavin Tonge topped the Leewards bowling with three for 38 as his side crumbled to their second straight loss.
Earlier, Rampaul removed the openers and Narine, who was named man-of-the-match, carved through the middle order severely restricting the Leewards run flow.
The visitors were in trouble at 46 for four before a 67 run partnership for the 5th wicketbetween Devon Thomas and Jahmar Hamilton added some respectability to the total.
Thomas   scored two sixes in a top score of 42 while Hamilton chipped in with 39.
Scoreboard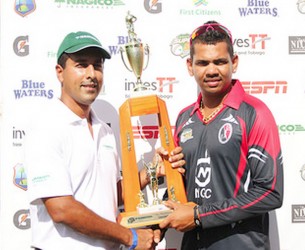 Leeward Islands innings
K Powell*  c Emrit b Rampaul             8
M Hodge   c Simmons b Rampaul       15
M Richards lbw b Narine                    10
S Joseph c Simmons b Emrit                 4
D Thomas  c Simmons b Ottley           42
J Hamilton†  lbw b Narine                  39
R Cornwall lbw b Narine                    14
J Athanaze  c DJ Bravo b Narine           0
G Tonge c DM Bravo b Rampaul          4
A Martin b Rampaul                             0
Q Boatswain not out                             0
Extras (w 4)                                            4
Total                                                  140
Fall of wickets 1-20 (Powell), 2-30 (Hodge), 3-35 (Joseph), 4-46 (Richards), 5-113 (Thomas) 6-130 (Cornwall), 7-130 (Athanaze), 8-139 (Tonge,), 9-140 (Martin), 10-140 (Hamilton)
Bowling:Bravo 4-0-19-0,Rampaul 9-3-20-4, Emrit 7-0-19-1,Narine 9.2-3-17-4, Khan 5-0-24-0, Simmons 3-0-11-0,Ottley 6-0-30-1.
Trinidad & Tobago innings
A Barath           c Thomas b Tonge         0
E Lewis lbw b Tonge                                   11
L Simmons c Richards b Athanaze       25
D Bravo c Cornwall b Athanaze          22
DJ Bravo* c Thomas b Tonge             42
D Ramdin† not out                                   22
K Ottley not out                                         5
Extras   (lb 2, w 16)                                  18
Total 5 wickets                                     145      
Did not bat RR Emrit, R Rampaul, I Khan, SP Narine
Fall of wickets 1-0 (Barath), 2-25 (Lewis, 4.3), 3-66 (Simmons), 4-75 (DM Bravo), 5-140 (DJ Bravo)
Bowling:Tonge 8-2-38-3, Boatswain 6.1-1-35-0, Martin 5-0-23-0, Althanaze 6-1-30-2,Cornwall 2-0-17-0.
Toss Leeward Islands, who chose to bat
Points Trinidad & Tobago 5, Leeward Islands 0
Player of the match SP Narine (Trinidad & Tobago)
Umpires L Abraham and LS Reifer
Match referee HPL Bruce
Reserve umpire N Duguid
Comments

Guyana Amazon Warriors completed a last over four- wicket victory over the Barbados Tridents to keep their chances of qualifying for the playoffs alive in this edition of the Caribbean Premier League (CPL) on the back of opener, Chadwick Walton at the Guyana National Stadium, Providence, last evening.

LONDON, CMC – West Indies part-time off-spinner Kraigg Brathwaite has been reported to the International Cricket Council for having a suspect bowling action, following the Caribbean side's humbling innings and 209-run defeat at Edgbaston here Saturday.

BIRMINGHAM, England,  CMC – Under-fire West Indies captain Jason Holder has urged his players not to lose confidence despite their embarrassing innings defeat inside three days in the day/night opening Test at Edgbaston.
(Reuters) – Spanish fourth seed Garbine Muguruza played flawlessly to crush Simona Halep 6-1 6-0 in a one-sided women's final at the Cincinnati Open yesterday.

Future Stars continued their meteoric rise on the 'street football circuit', defeating Back Circle 1-0 to clinch the 3rd Annual Xtra Beer 'Ballers in the Summer' Street Football Championship on Saturday.