KINGSTON, Jamaica (Jamaica Gleaner) – Former 100-metre world-record holder, Jamaican, Asafa Powell, has been given a 18-month suspension from competition, after testing positive for the banned stimulant, oxilofrine.
Powell was absent for the ruling.
T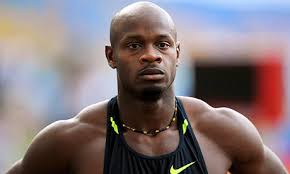 he panel found that he was negligent.
The suspension is with effect from June 21, 2013 to December 20, 2014.
The verdict was handed down at the Jamaica Conference Centre a short while ago by Lennox Gayle, the chairman of the three-member Jamaica Anti-Doping Disciplinary panel which heard the matter.
The other members of the disciplinary panel were: physician Dr Jephthah Ford and former FIFA referee Peter Prendergast.
The 31-year-old Powell tested positive for oxilofrine at the Jamaican trials in June 2013.
In January, Powell blamed the positive test on a new brand of nutritional supplements given to him by Canadian Chris Xuereb, his physical trainer at the time. During the final submission on February 26, Lackston Robinson, the attorney who represented the Jamaica Anti-Doping Commission (JADCO) told the disciplinary panel that Powell should serve the maximum sanction of two years.
At that time, the JADCO lawyer said Powell was not only significantly negligent, but also grossly negligent for trusting his physical trainer, who he had only recently met.
On Tuesday, Powell's former training partner, Sherone Simpson, the 2008 Olympic 100-metre silver medallist, was handed an 18-month ban for testing positive for the same substance – oxilofrine – also at the Jamaican trials last year. Simpson is eligible to return to competition on December 20, 2014 as her ban is effective June 21, 2013 – the day she returned the positive test.
What is oxilofrine
*Oxilofrine is a stimulant that is found in some supplements.
*It helps to increase blood pressure and also adrenaline flow.
Around the Web