National batsman Assad Fudadin yesterday blamed his personal performances and that of his team mates for Guyana's poor showing in the recent West Indies Cricket Board (WICB) Regional 2014 4-day tournament.
The 28-year-old West Indies 'A' opener told Stabroek Sport yesterday during an interview that he was somewhat "disappointed" with the team's dismal performance in the Regional 4-day tournament where they placed last after losing five straight games.
"I'm disappointed in the team we haven't been able to win games and it's important for us to learn and improve and take the positives while learning from the negatives," said Fudadin.
Apart from airing out his displeasure towards the team and its poor showing, Fudadin admitted that his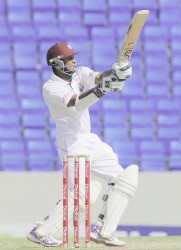 personal performances have not been up to his standards and takes blame for his team's recent poor streak.
"First of all I didn't achieve what I wanted to do for my personal goals, it didn't go too well for me but in cricket you have days and times like these, I won't be too hard on myself I had a few good scores which wasn't good enough because my goal was to get a couple of centuries and help my team win games," he declared.
The left-hander who averages 30.50 with one half-century from three Test matches for the West Indies, two of which they one against New Zealand and his first against England which ended in a draw, said he knows that being positive is the key to perfection while mental application is needed in order to convert starts into big scores.
"I have to be positive and build on it and use it as motivation. I've been batting well lately; I'm feeling good; but I'm not getting big scores and as a cricketer you know when you're in knick but I need to work on my conversion and turn my starts into centuries," he admitted.
Speaking about his toughest period this year the Rose Hall Town Youth & Sports Club (RHTYSC) player said that the tough moments came when the team was unable to capitalise on its starts and win matches which they at times had under control adding that when the team was not winning pressure is automatically placed on the players who despite playing good cricket, were not playing consistent cricket.
Fudadin believes that more competitive cricket for all the respective levels is needed to assist players in getting better.
"We need to improve standard in club cricket and we need to play more competitively and improve the standard," he declared.
Guyana, which looked a dominant force during the 50-over format of the WICB competition was knocked out in the semi-finals by Barbados after being forced to take the field missing key players. They looked a totally different side in the longer format especially in the batting department which ended up being a major let down for them.
The decline in the performances and the statistics shows that Guyana has been a force to reckon with in 50-overs and T20 led Fudadin to expound that his country is more or less a better limited overs side than they are in the longer version of the game.
A patient grafter of an innings and a batsman who has been shuffled up and down the order for years but still manages to dig in and produce under pressure, Fudadin was ridiculed for his slow, watchful batting during the recent series but said that he plans on "letting his approach, game and runs speak for itself", while saying that "persons who know cricket know that you have to be careful in your approach" and that he "doesn't see himself as a one dimensional cricketer."
After ending his 2014 regional stint as the third leading run-scorer with 273 runs from five matches with two half-centuries, top-scoring with 82, missing out on the last round against Trinidad due to a back injury which he is currently recovering from, the former West Indies Under-19 player said he will be looking for a recall to the 'A' team or possibly the Test team after his performances in the last two 'A' team tours where he scored a few half-centuries and a hundred against Sri Lanka and India, respectively.
"I'm nursing my injury and I'm getting better I will be doing some running and batting work soon while assessing myself and performances. With lots of cricket coming up I'm hoping to take part in either side or both have if I can," said Fudadin.
Around the Web