Georgetown's Gizmos and Gadgets Thursday last renewed its sponsorship of the Rose Hall Town Youth and Sports Club (RHTY&SC) first-division 2014 team by pumping in $275,000 along with trophies and electronic gadgets valued $100,000.00 for the club's 24th annual awards ceremony.
The RHTYSC player-of-the-year is expected to receive approximately $500,000 with $200,000 being cash along with a return ticket to the United States of America, designer clothing, cosmetic hampers, cell phones and electronic gadgets among other prizes.
Club secretary/CEO Hilbert Foster lauded the company for its investment in one of the leading first-division teams in Guyana, the Rose Hall Town Gizmos & Gadgets (RHTGG) team.
Foster stated that with Gizmos and Gadgets support, the RHTYSC was able to concentrate fully on playing cricket without worrying about the financial cost.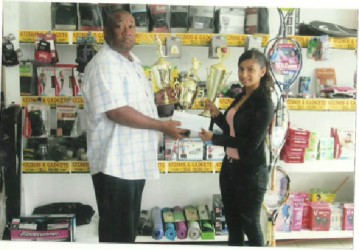 As a result, the teams continue to dominate Berbice cricket and in the last six months won the Busta champion of champions 50 overs and Namilco/Bakewell 20/20 tournaments.
Under the Gizmos and Gadgets sponsorship the team has won eight major championships and has produced numerous players for Berbice and Guyana at all levels including West Indies Test player Assad Fudadin, ex-West Indies ODI player Royston Crandon, national player Rajiv Ivan, former national player Delbert Hicks, national Under-19 captain Shawn Pereira and West Indies female all-rounder Shemaine Campbelle.
Foster also expressed gratitude to the company for supporting the awards ceremony as the RHTYSC strongly believes in rewarding players who perform beyond the call of duty.
Office manager and Head of the RHTYSC cricket development committee Moonish Singh disclosed that Crandon would lead the team in 2014 with Shawn Pereira as his deputy. Winston Smith is the coach while Foster would continue to serve as the manager.
Singh stated that with the pool of dedicated players that the RHTYSC have the aim is to dominate for the rest of the 2014 Berbice season.
Special emphasis will be placed on developing promising talents for the future.
Marketing manager of Gizmos and Gadgets Divya Sieudarsan stated that her General Manager Ravi Mangar was pleased to sponsor the team and was very impressed with its achievements while under the sponsorship.
The team, she noted, has promoted the company's brand with passion and success and as such it had no problem with renewing its sponsorship. She wished the team more success in the future and expressed confidence that the RHTYSC would continue to uphold the high standards it has set itself. She also expressed congratulation to the awardees of the club who would be honored at the 24th annual awards ceremony scheduled for 18th May.
Around the Web