GCB Inter County U19 cricket
By Delvon Mc Ewan
A fluent century by Shimron Hetmyer combined with quality bowling from their spinners led Berbice to an innings and 88-run win over the President's XI on the second day of the first round of the Guyana Cricket Board (GCB) Under-19 three day Inter-County competition.
Playing at the Enmore Community Development Centre Ground, Berbice, whose innings resumed at 98-2 at the beginning of yesterday's second day, reached 337-9 before declaring their innings at the end of the 84th over. Hetmyer and Ashkay Homraj who was not out overnight on 64 and 16 respectively went on to score 125 and 59 while Berbice skipper, Sharaz Ramcharran supported with his patient innings of 60 from 119 deliveries.
Hetmyer and Homraj who added a 91-run partnership in the first session, took Berbice to first innings points. Their partnership was broken when Hetmyer's innings which lasted 135 deliveries and included 12 fours and three sixes ended. Homraj and Ramcharran then joined forces to add 48 runs to take Berbice's lead past three figures. After their partnership was broken Berbice continued to lose wickets constantly before declaring on the stroke of the tea interval. Bowling for the President's XI, Chavin Moriah, Renaldo Mohammed and Ryan Shun picked up two wickets each.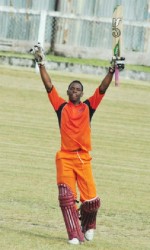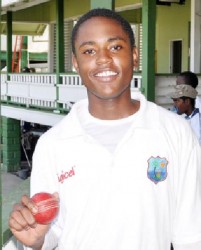 In their second turn at the crease, the President's XI lost Ryan Shun early as he played a Nial Smith's delivery onto his wicket with the score on nine in the third over. After Shun's demise, the President's XI kept losing wickets constantly as spinners, Viendra Gooniah, Parmand Ramdhan and Arif Chan made inroads into their batting line up. Gooniah made batting difficult for the batsmen with the mixture of his deliveries. He was accurate with his leg spinning deliveries and bowled the googly at the right time to pick up three wickets. Gooniah was supported by Chan and Ramdhan who collected three and two wickets respectively.
At the Demerara Cricket Club Ground, Demerara defeated Essequibo before the second session ended on the second day by an innings and 105 runs after Steven Sankar was once again destructive at this level claiming match haul of 13-75 with his leg spin.
Essequibo, who resumed their first innings at an overnight score of 23-1 was bowled out for 104 in 26 overs with Sankar claiming 5-17 from four overs. Sankar was supported by aggressive pace bowling from Keon Morris and Kevin Paul. For Essequibo Parmesh Parsotam (32), Akini Adams (20) and Avenesh Persaud (14) were the principal scorers.
In their second innings Essequibo was bowled out for 132 in 27 overs with Persaud and Keno Harry the principal scorers making 43 and 30 respectively. Sankar was once again destructive with figures of 8-58 from 11 overs.
Essequibo's poor performance at this level continued as they only manage to bat 53 overs scoring 236 runs while losing 19 wickets in less than two sessions. They will next face the President's XI at the same venue from Monday.
Also on Monday Demerara will face Berbice at the Georgetown Cricket Club Ground, Bourda from 10:00 hours.
Around the Web