The Guyana Boxing Association (GBA) will look to stage tournaments every two months all across the country following the highly successful Novices Championship last weekend at the East Ruimveldt Community Centre ground.
"GBA's aim is to continue to take the sport to communities at least every two months," the association's president, Steve Ninvalle told Stabroek Sport recently.
"If we can have a boxing tournament every two months somewhere in Guyana, it will do the sport well so that's the direction we will be going.
"I think it was an overwhelming response that we got from the people of East Ruimveldt and its environs, it shows us that we are moving in the right vein with taking boxing to the people."
Ninvalle opined that "Sometimes it is quite arduous to jump in a minibus and special hires and of course that incurs a cost, so we are taking it to communities making them aware of the sport of boxing."
Taking the fistic sport to a community instead of a traditional venue is a plus as Ninvalle pointed out.
"It was the largest crowd that we have seen for the longest while in an amateur competition and if we started our local competition on that footing then the rest of the year looks very good."
So where to next?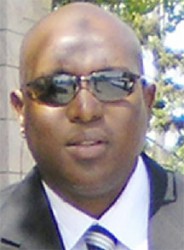 "We plan on looking at the East Coast of Demerara and Essequibo for upcoming championships, we also plan on targeting Berbice.
"Our next tournament that we have coming up is going to be the Intermediate in June and we are looking at hosting it in Essequibo but exactly where is still to be decided."
The GBA head also lauded the five boxers from the NOC and the pugilists from Republican who enabled that gym to lift the Best Gym trophy ahead of perennial winners GDF.
"It's no more a playing field whereby you know this one gym will come out on top and that bodes well for the sport. I want to say congratulations to the NOC and the Republican Gym.
We have loaned our national coach, Wincel Thomas to both institutions and we have seen results in that."
Ninvalle also noted that the championship attracted a record number 67 Simon Pures.
"If you have to sum it up it was a great and promising weekend for amateur boxing" he concluded.
GBA's boss also thanked the media, the referees, judges and other stakeholders who played a part in the championships success.
Around the Web