– but Braithwaite still in the lead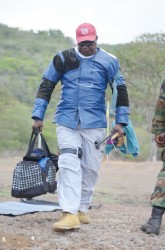 A thunder storm just after lunch brought a premature end day two of individual competition but defending champion Guyanese Lennox Braithwaite has increased his lead at the West Indies Fullbore Shooting championships at the at the Twickenham Park ranges in Spanish Town, Jamaica yesterday.
With only two ranges (300 and 500 yards) possible yesterday, Braithwaite shot a possible at 600 yards 35 points with 5 V-bulls and also recorded 48 points with 4 V-bulls at 300 yards to lead the Grand Aggregate with 212 points with 15 V-bulls.
He is chased down by Canadians Serge Bissonnette with 210.13 and Alpar Katona with 209.12 while Trinidad and Tobago's Norris Gomez is on 208.14.
The other top shooters in the Grand Aggregate top 10 are Jamaicans Jose Nunez with 206.14, David Rickman – 205.13, Wayne McNair 205.11, Guyana's Ransford Goodluck with 204.14, Thomas Greenaway of Antigua/Barbuda 203.12 and Dylan Fields of Guyana with 202.10. (Story and picture courtesy of Troy Peters of the GNRA)
Around the Web