— three-stage cycle road race wheels off today
Guyana's premier and longest tenured cycling event, the Independence Three-Stage Road Race rolls off this morning in Berbice with a record entry of 79 cyclists.
Up from 76 starters last year, the organizers of the 32nd edition of the calendar event revealed that 12 foreign wheelsmen have invaded our shores on a quest to out pedal 67 of the nation's best riders.
During the formal send off at the Ministry of Sport yesterday, chief organizer, Hassan Mohamed disclosed that six Anguillans and six riders from the Trinidad and Tobago based Heat Wave team will be on their saddles.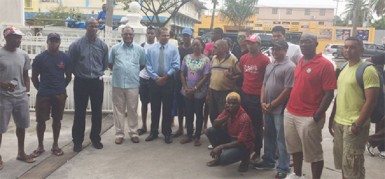 Last year's winner of the event, 20-year old Jamol Eastmond, who is part of the Heat Wave unit is touted be part of their contingent.
Yesterday, president of the Guyana Cycling Federation (GCF), Cheryl Thompson pleaded with the local cyclists to adhere to the rules and also compete as teams so that the champion's trophy can remain in Guyana.
During the sendoff, Minister of Sport, Dr. Frank Anthony echoed similar sentiments of Thompson and also mentioned that he is "optimistic that the race would be a ground breaking one."
As customary, the three-stage race which will cover a distance of 171.5 miles (274.3km). The first stage pedals off at 7:30hrs at the Corriverton Police Station and will finish at New Amsterdam. (46.6 Miles) (75km). The second stage also starts today at 14:00hrs from Rosignol and will proceed to Carifesta Avenue, Georgetown for the finish. (60.4 Miles) (97.1km).
For the final stage, the event will start tomorrow at 08:00hrs in Kara Kara, Linden and will conclude at Homestretch Avenue in Georgetown. (64.5 Miles) (103.3km). Local standouts like Raynauth Jeffrey, Orville Hinds, Alanzo Greaves, Paul DeNobrega, Godfrey Pollydore, Robin Persaud and Geron Williams are scheduled to compete.
Notes: Following two days of racing, the top six finishers are set to receive lucrative cash prizes and trophies. Last year, Eastmond, took the top honours in six hours, 58 minutes and 13 seconds.
Around the Web