The national rugby team's margin of victory against Barbados on Saturday in their NACRA 15s fixture was the second largest ever.
The 48-19 win (29 points gap) is Guyana's biggest against any team since their 57-nil drubbing of St Lucia in August 2005.
With the win on Saturday at the Garrison Savannah, Guyana moved on to face last year's Southern Zone winners and familiar foe, Trinidad and Tobago in the zone final on June 7.
That match will be played here in Guyana at a venue yet to be announced.
In Saturday's thrashing of the host, Avery Corbin and Carl Lewis breached the Barbados' defense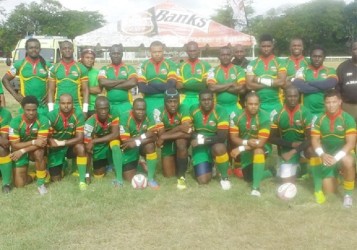 on two occasions each while Rondell McArthur Claudius Butts, Cloyd Prowell and Theodore Henry recorded a try each.
National captain, Ryan Gonsalves also chipped in with four conversions in the rout.
The three tries and two conversions by the Bajan ruggers were not enough against the powerful locals.
"The team performed really well," Gonsalves told this publication soon after returning to Guyana on Sunday.
"It's good to know that we put away an opponent with such a margin of victory, that the most we ever beat Barbados."
Team's performance
"I think everyone gave it their all, the game meant a lot to us because we wanted to be on the winning side.
"We really took the game to the Bajans from the first kick off, we played as a unit and stuck to the game plan which was to play loose since we are not as big as them."
Gonsalves added "The players used their speed and played wide, I must give a lot of credit to my teammates, everyone played a major part in getting the victory but it is not over yet."
Next hurdle to cross
"The journey is not over yet" Gonsalves pointed out. "Barbados was just the first hurdle, we have our next game against Trinidad and that to me is the Caribbean finals so aloft is at stake."
Gonsalves also mentioned that "the team still have some areas to work on" and will be using the time in between their next game to iron out the kinks.
The national captain also highlighted that the sport has brought pride and glory to Guyana and is optimistic of receiving corporate support to help with preparations before the game and a large raucous crowd during the match.
Around the Web