It's fight week for Clive 'The Punisher' Atwell and the fighting pride of Guyana is oozing with confidence.
When Atwell arrived in Acapulco, Guerrero, Mexico on Monday for Saturday's fight with World Boxing Council (WBC) featherweight champion, Jhonny Gonzalez, 'The Punisher' told reporters that his opponent does not impress him and he is ready to bring home the "beautiful WBC belt."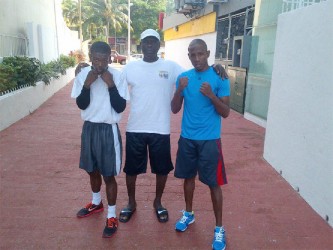 According to an article appearing on boxingscene.com yesterday, Atwell is quoted saying "Acapulco is a famous vacation spot throughout the world, but my goal is not to lie down on the beach.
"I have before me a great opportunity to achieve the dream of being a champion against a great opponent. Gonzalez is a big puncher but he does not impress me. I am ready to make history in Mexico."
The undefeated contender added:"It is not an impossible task if you see it from the same perspective as my team. I have great amateur experience, a winning record and the perfect style to trouble Jhonny Gonzalez, and take home the beautiful WBC belt."
The Atwell (12-0-1, 7 KOs) vs. Gonzalez (55-8, 47 KOs) fight will be carried by Televisa Deportes from the Acapulco Convention Center.
The 25-year-old, who had 76 fights and won 72 of them during his amateur career, fine-tuned his preparation for the biggest fight of his career at Gleason's Gym in Brooklyn, New York.
When Stabroek Sport spoke to 'The Punisher' recently, he disclosed that he is eager to step in the ring against Gonzalez.
Around the Web