Kellon Carmichael, the Malteenoes all-rounder is hoping that fruitful performances during his stint in England with the Hadleigh and Thundersley Cricket Club in the 2014 Essex county Division One League, will pave the way for a debut call up to the Guyana national side for the 2014/15 season.
A hard worker in the domestic circuit who plays in Trinidad and Tobago as well, the Malteenoes skipper has been a part of recent senior camps for Inter-County competitions and even the recently concluded NAGICO Super 50 tournament but has failed to make the final cut. However, he was more than optimistic that a good season in England will allow him to find favor with the selectors for the upcoming season.
"Definitely I want to represent my country and having been on the stand-by list a couple times for the T20 and Super 50 teams, I know I've been knocking on the doors for a while now, so a lot depends on me having a very successful English season and also coming back home and doing well in club cricket and inter-county cricket would definitely boost my chances of breaking into the team," said a confident Carmichael.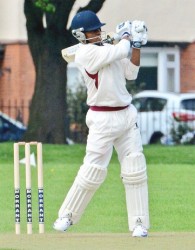 The 26-year-old, who exclusively spoke to Stabroek Sports on Thursday via social media from England, said that his focus during the next few months is mainly set on helping his team to finish well in the league while learning as much as he can during the period.
"My main goal is to help my club finish among the top three clubs in our league.
Also for me, I want to be among the top performers in the league. I will take it game-by-game and try to inspire my teammates to do good as well," said Carmichael who went on to credit former first-class player Neil Barry, who represented the club in the 90's for organizing the stint.
Apart from wanting to take his team to the top of the league, Carmichael admitted that personally, it was a dream of his to travel to England in order to hone his skills.
"I was delighted to get the opportunity. I've always wanted to come to England to test my skills and improve my game," he declared.
However, nothing comes easy as Carmichael said that the journey has definitely been a tough one.
"So far it has been challenging mainly because of the weather." He lauded his new club mates who he said were very nice and played an integral part in making him feeling at home.
With scores of 06, 12, 59 with the bat and bowling figures of 3-23 from 9 overs, 3-34 from 12 overs and 1-22 from 8 overs, the all-rounder said his form is very good at the moment.
"So far what I've learnt from bowling in these conditions is that you have to bowl a fuller length especially early part of the season."
The season which officially bowled off on May 10, saw Carmichael opening his account with a phenomenal all-round performance, collecting 7 for 16 including a hat-trick and then returned with the willow to crack 48.
With the season concluding in September the all-rounder said he expects to be back home soon after in order to press his case for a National call-up, but is hoping to meet some past and present Test players in order to soak up as much as cricket knowledge as possible in order to further mature his skills upon his return to Guyana.
Around the Web