National swim champ Amy Grant garnered several victories and a new personal best for the Girls 11-12 50m Freestyle when she returned to competition last week in the Guyana Amateur Swimming Association (GASA) 2014 Swimming Championship.
Grant who is the 2012 Girls-12 and under 50 metres backstroke and 2013 girls 14 and under 50m freestyle and backstroke schools national champion, was out of the pool for two months with an ear infection and only resumed training three weeks ago in preparation for the GASA Championships, held from May 17-20 at the National Aquatic Centre.
The 12-year-old who was slated for a total of 14 events over the four day period, featured in the 50 metres butterfly, freestyle and backstroke then swam the 100m backstroke, freestyle and butterfly before entering the 200m freestyle, backstroke, and IM and concluded in the distance events of the 400m, 800m and1500m Freestyle.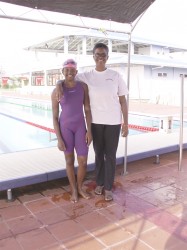 While she did not break all of the records, Grant bettered the Girls 11-12 100m Butterfly in 1.32.50. She set a leading time of 3.39.12 in the Girls 11-12 200 meters backstroke 12 while in the 1500m Freestyle of the same category she finished in a time of 27 minutes 58 seconds which is the fastest recorded time by an 11-12 Girl in Guyana long course meet. She also swam her personal best for the Girls 11-12 50m Freestyle missing the record by 300th of a second.
Grant missed two of her events – the Girls 11- 12 50 metres breaststroke and the Girls 11-12 200 meters butterfly – but concluded a successful tournament with 12 victories and records set and broken.
There were three time keepers to clock the breaking or setting of records.
Around the Web