Future overcame the constant downpour of rainfall and tough competition by Broad Street to win the inaugural August Beverage and Sparta Bosses small goal knock out football competition in the wee hours of Saturday morning at the Sparta Tarmac in East La Penitence.
In an exhilarating match of small goal football where skill was in abundance, Future won by 4-3 on penalties after regulation time and overtime ended nail all.
The underdogs Future showed their intent early as they made several attempts at the goal that went wide or were blocked by the defenders.
Their closest chance came in the first half when their skipper Keron Solomon was unlucky as his powerful right foot shot hit the front corner of the goal but stayed out. Broad Street also missed some opportunities when their striker Jimmy Gravesande turned on the heat in the second half.
Overtime saw the players involved in minutes of aggressive football but neither team were able to break the deadlock.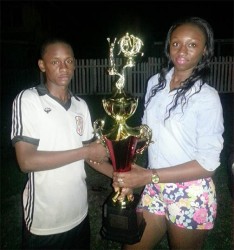 Solomon received the winning trophy and $300,000 on behalf of his team for their efforts to outplay all other competition and emerge winners. While the second place Broad Street and third place Charlotte Street received $150,000 and $50,000 respectively.
In the night's first semifinals game, Solomon's double and a strike from Kareem Knights guided Future past Charlotte Street 3-0. While in the second final, Gravesande's first half goal got Broad Street into the finals as they defeated Leopold Street 1-0.
Demor Charles and Ryan Denny scored a goal each to seal the third place for Charlotte Street as they defeated Leopold Street 2-0.
In the $4,000,000 exhibition game, August Beverage team and Sparta Bosses played to a nil all draw but will soon engage in a rematch on a date to be announced.
Siedha Dummet won the female penalty shootout competition that was hosted as a side attraction for the female patrons.
In an invited post-match comment with Stabroek Sports, organizer Richard Mittelholzer thanked the fans who witnessed an entertaining display of football throughout the night, for their support. He also praised the neighbours for their tolerance since the profits from the tournament will be used for a community project. Mittelholzer disclosed that a playfield will be constructed in the community to provide recreation of all sorts for the youths. "It will take a quota of quarterly events to raise sufficient funds to facilitate the project," he stated.
Around the Web