Guyana and Ex-West Indies wicket-keeper/batsman Derwin Christian says that he will not be hanging up his gloves anytime soon despite missing out in this year's Regional competition while stressing on his desire to once again represent his country at the highest level after a prolific season in Trinidad & Tobago.
"I have not yet hung up my gloves. As long as I get picked, I will make myself available and play any format of cricket for my country," said a confident Christian who added that he was "still passionate, hungry and more committed to playing cricket while aiming to be back stronger than ever."
During the exclusive interview with Stabroek Sports on Monday, the 31-year-old explained that he still had hopes of finding himself back into the national make-up despite not being selected for this year's West Indies Cricket Board (WICB) Regional tournament which was held in Trinidad and Tobago.
Admitting that his non-selection was due to his form, the former Under-19 player stated:" I didn't think I performed to the expectations I am capable of. I didn't score runs and I would say that was why the selectors felt like I needed to be replaced with Bramble (Anthony) at that time."
Christian, who played two T20 Internationals for the West Indies back in 2011, has been playing in the twin island republic of Trinidad and Tobago where he regained some much needed form and confidence playing for the Montrose Sports Club.
A heavy run-scorer in the 2014 Trinidad Premier League season, the right-hander scored 469 runs from 10 matches in the T20 format with a highest score of 95 against Esmaralda Cricket team. In the 50-overs competition, he ended with 256 runs from six games with a highest score of 102 against the Merry Boys Cricket team while in the 2-day version he chalked up a whopping 600 runs from just eight games, cracking 194 against the same Esmaralda side.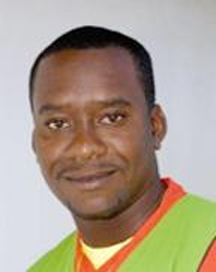 Christian concluded his stint with an overall total of 1325 runs with 37 dismissals behind the stumps.
Elaborating about his time spent in Trinidad, the Demerara Cricket Club (DCC) player said it… "helped me to regain a lot of confidence, it also enabled me to play more responsibly. I didn't have too much pressure. I just needed to be specific in what I wanted to do."
Speaking about his wicket-keeping which has more than less been up to standards over the years, Christian confirmed that he did improve in his technique while away, pointing out that "In keeping there is always work to be done.
"It improved for me as a 'keeper (my technique) it is always important to learn and do new things, but I had a very good season wicket-keeping overall," he said.
While admitting that he enjoyed his five month stint in Trinidad, Christian pointed out that he was also following his home team's performances in the Regional competition. When asked about his thoughts on the team's performance the veteran 'keeper positively said: "It's just a process all teams go through at a point in time. It's a building process for the younger guys and because they have some senior guys in the team they should learn a lot, but hopefully Guyana will bounce back and become stronger."
He credited the likes of former national spinner Mahendra Nagamootoo and others for playing a role in his improvement while in Trinidad, explaining that the atmosphere was good and it was indeed a basin for churning out stress-free performances.
In closing Christian, who will be flying off to Canada today for five months of cricket, reiterated his thoughts from earlier while taking some time out to applaud his National teammate Leon Johnson who was recently selected for the West Indies Test squad, saying "I know that it is something Leon wanted for a long time and he deserves it, I just hope he makes the most of the opportunity."
Around the Web