Team Guyana played second fiddle in the field events but dominated on the track to regain the Track and Field segment of the XX annual Inter Guiana Games (IGG) yesterday at the Camp Ayangana ground.
The locals completed the two-day championships on 333 points to finish 38 points ahead of their Surinamese counterparts.
Track and field standouts, Tevin Garraway, Ornesto Thomas, Avon Samuels and Cassey George did their part in ensuring that Guyana wrested the trophy from Suriname.
In arguably the most exciting event of the day,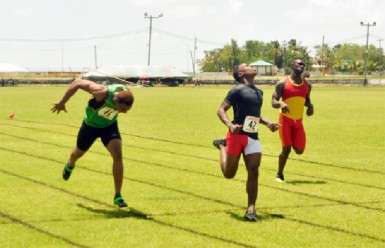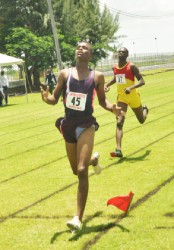 sprint ace Garraway raced to a close victory (21.4s) ahead of arch rival Kevin Abbensetts (21.5s) and Suriname's Romario Pansa (22.10s).
Thomas, Samuels and George then completed doubles to add more hardware to their cabinets.
After sprinting to victory in the boys 1500m one day earlier, Thomas won the 800m in 2:00.70s to finish ahead of Suriname's Uracio Seedorf who clocked 2:01.50s for second.
Miguel Shepper was third in 2:10.90.s
Samuels won a sprint double after winning the girls 200m in 24.90s.
Jevina Sampson who placed second to her teammate in the girls 400m on Saturday again took silver in 25.20s.
Suriname's Sabrina Menso was third in 26.40s.
After cruising to the gold on the girls 1500m, George easily won the 3000m stopping the clock in a brisk 10m.58.50s while Claudrice McKoy was second for Guyana in 11.19.30s.
Suriname's Esmeralda Amania was third in 12:07.60s.
CARIFTA Games 1500m bronze medalist, Andrea Foster won her first gold of the event with a 2:21.80s run in the girls 800m while Shontel Hinds was second for Guyana in 2:33.90s. Suriname's Davinia Asantiba was third in 2:45.60s.
Comments

Guyana Amazon Warriors left a packed house heartbroken after folding to the Jamaican Tallawahs by two runs in a thrilling final over, as they began their home leg of this year's Caribbean Premier league (CPL) with a school boyish display, last evening at the Guyana National Stadium, Providence.

DUBAI, England, CMC – Reigning champions West Indies Under-19s will be part of history, when they kick off their title defence of the ICC Youth World Cup (YWC) against hosts New Zealand Under-19s.

Guyana ended their Group-F campaign in the CONCACAF Boys U15 Championship on a winning note, edging St.

BIRMINGHAM, England, CMC – A day that started brightly ended in typical uncertainty for West Indies, after Alastair Cook and Joe Root plundered hundreds to give England an early hold on the historic first Test on Thursday.
BASSETERRE, St. Kitts, CMC – A strong all-round performance from Javeor Royal propelled Jamaica Under-19s to a four-wicket victory over ICC Americas Under-19s in the Regional One-day youth tournament on Thursday.