Hikers Hockey club walked away with a clean sweep of the division-A and division-B titles, defeating Georgetown Cricket Club (GCC) and Under-19 Mix team respectively when the Noble House Goals Galore Indoor Hockey Championships concluded on Sunday.
Hosted at the National Gymnasium, Pepsi Hikers defeated arch rivals (+3) GCC in the division-A finale by an 8-5 score line. Held to a 3-3 in their earlier group matchup, Hikers would cut the deficit to two goals compliments of a Robert France third minute strike, after he collected a pass from Jamarj Assanah.
France would further reduce the deficit to one goal as he netted two minutes later after receiving another pass from Assanah within the penalty area. GCC would restore their two-goal advantage in the sixth minute through Kevin Spencer strike form the right side of the area.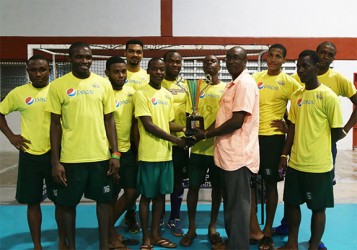 He would reduce the deficit once more as he completed his hat trick to send his side trailing 3-4 at the end of the first half.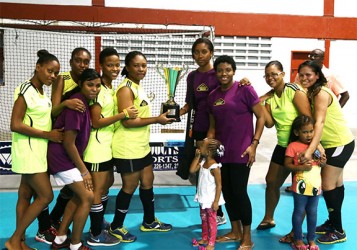 The second half period would be all about the Hikers unit as they netted five goals in the period. France continued his goal scoring from the opening period as he netted a further two goals in the period while Assanah netted double and Leon Bacchus scored a single to complete the dominant win.
On target with the only goal for the Bourda side in the period was Mark Sergeant. In the division-B finale, (+8) Hikers Revelations defeated (+7) Under-19 Mix via penalty shoot-out 1-0 after the normal time ended with the score locked at 9-9.
Maria Munroe netted the only goal for the winners in the shoot-out after Revelations custodian Annesa Permaul denied all three Under-19 Mix attempts from the distance.
In the earlier exchanges, Kenisha Wills netted for the winners in normal time after Unzie Copeland had given the Under-19 Mix the early lead compliments of a double strike within the first 10 minutes of the matchup.
In the presentation ceremony that followed the conclusion of the event, Ashley DeGroot of GCC Spartans won the highest goal scorer award for division-B with 18 goals while Minsodia Culpeper of Old Fort Shooting Stars was awarded the emerging female player accolade.
On the male side, France of Pepsi Hikers walked away with the division-A highest goal scorer award with 14 goals.
Around the Web