Guyana Independence Cup T20 organising committee gives back to the communities
The organizing committee of the Guyana Independence T20 Cup 2014 recently made cash presentations to several charitable organizations with the proceeds garnered from the tournament which was held at the Albion Sports Complex in May.
Donations were made to the Berbice Chamber of Commerce (BCOC), the Berbice Cricket Board (BCB), two cricket clubs, the Upper Corentyne Cricket Association (UCCA) and the Blairmont Cricket Club (BCC), Bal Nivas, a new shelter at Port Mourant, Alpha Home, Canaan Home and Children of Promise.
Two schools are to benefit while there is expected to be continued assistance to Albion Sports Complex for renovation purposes. Funds were put aside for Health/Disaster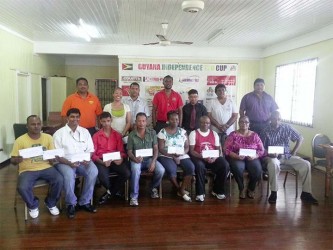 and a contribution was made to the Regional Democratic Council Region #6 for launching of the lights at Albion
The third edition of the tournament was a joint fundraiser between the BCB and the BCOC and Development Association.
The aim was to provide funding towards the development of the clubs in the ancient county.
According to a press release, Anil Beharry, the chairman of the committee and the first vice president of the BCB, said that he was happy to report that the tournament was a resounding success despite the challenges faced.
He added that the fundraising event was here to stay and will continue to provide assistance to the less fortunate in the communities.
He thanked the sponsors for the faith shown and the media houses for their excellent coverage and commended the players and fans for their support.
Mark Roopnarine, president of the BCOC and a member of the organizing committee echoed the sentiments of Beharry and promised that next year's event would be bigger.
He disclosed that planning for the 2015 edition would commence soon.
Ramroop Rajnauth also spoke on behalf of the BCOC along with Angela Haniff who spoke on behalf of the BCB. Event treasurer, Chris Hicks, gave a detailed financial report of the finances acquired and how they were spent.
The committee also thanked sponsors and well-wishers who threw their support and time behind the event.
Most Read This Week