LONDON, (Reuters) – Allegations of widespread doping and cover-ups in athletics are as damaging as the cases involving Ben Johnson and Marion Jones, according to International Association of Athletics Federation (IAAF) vice-president Sebastian Coe.
This month German broadcaster ARD made claims of systematic doping in Russia and also alleged that the IAAF covered up or did not investigate a number of positive blood tests or blood-level anomalies from athletes from various nations.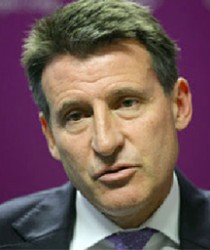 The allegations have not been verified by Reuters and Russian Athletics Federation chief Valentin Balakhnichev has denounced the claims as "a pack of lies".
"How do I benchmark this? In the 40 or so years in athletics, there have been big moments. Ben Johnson in 1988, Marion Jones, this is up there and nobody is remotely suggesting these allegations are not serious," Coe, a prominent campaigner against doping, told the BBC Radio's Sportsweek yesterday.
"If this is provable, of course it is (as big as the cases involving Johnson and Jones)."
Johnson failed a drugs test after winning 100m gold at the 1988 Seoul Olympics while fellow American Jones was stripped of three Olympic gold medals for doping violations at the 2000 Sydney Games.
"It's been described as a bad week for athletics — I would go further, it's been a ghastly week," Coe added.
"None of us should hide or shy away from that. We have to bring this tawdry, sorry episode and any of those allegations to a close as quickly as we can."
Around the Web