PORT ELIZABETH, South Africa, CMC – Left-arm seamer Kenroy Peters yesterday described his Test debut as one of "joy and butterflies", and had dedicated his first Test wicket to seven-week old son Ethan.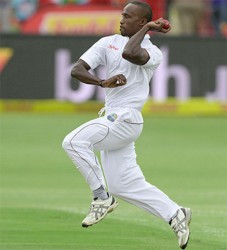 The 32-year-old, who arrived here earlier this week as a late replacement for the injured Kemar Roach, shared the new ball with Jerome Taylor on the opening morning of the Boxing Day second Test at St George's Park.
Peters said he found out he had been included the final XI on Christmas Day but noted this did little to assuage the nerves.
"The nerves start from the time you hear you are in the first XI. It was a mixture of emotions, joy and butterflies" said Peters.
"I always tell myself once I bowl my first spell and I can be within the areas I want to bowl, the second spell is going to be easier because I would have already assessed the conditions and that's basically what my first spell was all about.
"I was trying to assess the conditions, looking at the strengths of the batsmen and working towards the team plan. The more I bowled during the day I became more confident."
He finished with one for 44 from 15 overs, claiming century-maker Dean Elgar for 121, caught at the wicket off one that seamed away gently in the final session.
Peters said his main focus from the start of the day had been getting among the wickets.
"I remember when I played my first first-class game, it was against South Africa A. I was just finished playing Under-19 when I got the call," Peters reminisced.
"Now ten to 12 years later, I am making my [Test] debut against South Africa. So when I was bowling [today] my only ambition was to get a wicket … because I wanted to do it for my son. I have a seven-week old son and I'm dedicating this to my son."
South Africa finished the day in a strong position on 270 for two, with Faf du Plessis unbeaten on 99 and captain Hashim Amla, who got a double hundred in the first Test at Centurion last week, unbeaten on 17.
Both batsmen benefitted from missed chances as West Indies put down three catches.
With AB de Villiers and Stiaan van Zyl, both of whom got hundreds in the first Test, still to come, South Africa appear headed for another large total but Peters said it was important that West Indies remained patient and took their chances.
"The South African batsmen are excellent batsmen but they tend to sit on their back foot a lot because they have grown up on pitches that are pretty bouncy and which come through. My strength was to try and bowl a little fuller, just be patient and see if I can try and get success from just being patient," the Vincentian explained.
"When I was home I spoke to Nixon McLean and Ian Allen (former West Indies fast bowlers). When I came on tour I was speaking to Sir Curtly (Ambrose) and also the bowlers who played in the first game to assess the pitch, [to] see what the conditions are like and they kind of helped me to plan my game plan and this in turn helped me to bowl reasonably well today."
He added: "Tomorrow we definitely have to take more of our chances. We also have to bowl a more consistent line and also assess the batsmen a lot more. Hopefully this can help us."
Around the Web