One of the very important plays in the post-Independence literature of Guyana is being shown at the Theatre Guild Playhouse this weekend. The drama holds a prominent place because of its author and his distinguished role in the history of modern Guyanese drama as well as its pioneering position as a Guyanese radio serial turned into a stage play that reflects the state and emergence of Guyanese post-colonial drama and literature in the immediate post-Independence period of the sixties and seventies.
The Tides of Susanburg was written by Francis Quamina Farrier, who deserves to be honoured for his role in the development of modern Guyanese drama and his positioning as an elder statesman in the local theatre. Tributes have been paid to him along the way. The highest has been the Medal of Service conferred on him by the Guyanese nation for his "years of contribution to theatre in Guyana." In 2008 he was honoured by the Guyana Cultural Association responsible for the annual Guyana Folk Festival. This institution based in New York staged Farrier's humorous play What You Don't Know Could Kill You in New York as part of their Carifesta celebration in Brooklyn and their annual Wordsworth McAndrew Awards for that year.
Farrier, who currently commutes between Guyana and the USA, was also honoured by the New York State Senate in August 2007 as "a shining example of Guyanese cultural achievement in the field of the written and spoken word." He also completed courses such as the BA Performance Arts at the University of Middlesex in 1982, and the Press and Information Techniques course conducted by the Overseas Training Unit of the Central Office of Information in 1974.

Among his most significant tributes, though, was the Lifetime Achievement Award bestowed upon him by the Awards Committee of the Theatre Guild of Guyana at its 2012 Awards ceremony held in January 2013. Although it is not a Guild production, the bringing back of The Tides of Susanburg to the Playhouse is also very appropriate. Both the Lifetime Award and the staging of this play are significant at the Guild because that is the stage on which Farrier made his telling contribution to Guyanese drama in the 1960s and '70s.
The Tides of Susanburg presents an interesting portrait of Guyanese society at that time while also showing the type of theatre of social realism reflecting the way the drama was developing. It has the distinction of having been the first local dramatic radio serial or soap opera, and was so successful that it prompted a sequel The Girl from Susanburg which, like most sequels, did not make the same impact. Farrier even went on to do a third part – The Mayor of Susanburg, which is really little known. However, those plays help to earn Francis Quamina Farrier his place in history.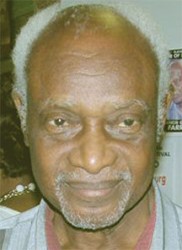 Colonial Guyanese drama, of course, was dominated in the very early years by the visiting travelling companies of England and America. If we set aside the traditional theatre of the folk for the time being and focus on Western theatre on the formal stage, even the drama developing locally was European driven, staged by and for the white population. There was a succession of theatre houses (see Joel Benjamin) including more than one named Theatre Royal. The main exception to visiting actors and local "Gentlemen Amateurs" was the Portuguese theatre (see Mary Noel Menezes) which made its mark in many ways. Their activities included original plays which would have provided British Guiana with its early local national drama.
The first half of the twentieth century saw local resident groups and writers getting involved in theatre and generating plays. Most of these, however, proved inconsequential and were largely imitative. The efforts never produced memorable or lasting Guyanese drama or important playwrights. The two most prominent names were Basil Balgobin and Norman Cameron. While there is record of many plays produced and performed by various groups the extant reviews do not reveal much innovation or national creation despite such social and cultural clubs as the British Guiana Dramatic Society (BGDS) founded in 1937, the British Guiana Union of Cultural Clubs, the Georgetown Dramatic Club, the Demerara Dramatic Club and the YMCA, among others that flourished in the 1940s. Neither did Cameron's account of the drama of the time (Kyk-Over-Al, 1945) produce any information to the contrary, despite what he described as "an outburst of dramatic activity."
In fact it was Cameron himself who may be credited with the title the father of modern Guyanese drama. Cameron actually made a deliberate effort to change the face of local theatre and wrote plays designed to effect it, starting in the 1930s. There is debate about the success of his plays like Sabaco (1949) and Balthazar (1931) mainly because they were more African than Guyanese. They did have African ethnic interest while the composition and work of the BGDS had exclusive Indian interests. But original Guyanese drama began to emerge and moved along in the 1950s.
Out of these developments a few other playwrights emerged. Esme Cendrecourt and Sidney Martins produced work, as did Helen Taitt (better known as a dancer) author of Stabroek Fantasy in the late fifties. A contemporary of Taitt is Cecile De Nobrega. Even coming out of the narrowly focused BGDS was Rajkumari Singh who went on later to make notable contributions. Outstanding among the playwrights of the pre-Independence period was Wilson Harris who was a poet and dramatist before he wrote his great novels. He wrote Eternity to Season in 1953.
However, what may be called Independence Guyanese drama made a bold appearance in the 1960s at the Theatre Guild, founded in 1957 by Lloyd Searwar, Arthur Hemstock and Bertie Martin. The Playhouse was built in Kingston in 1960. This brought together a number of small groups operating around Georgetown, including the very prominent Bishops' High School with an ambitious vision that was to see the rise of many new playwrights. The most notable of these by 1963 were Frank Pilgrim and Sheik Sadeek. The Guild, with contributions from Bookers' Frank Thomasson, initiated two very important institutions – the annual Playwriting Competition in 1959 and the Drama Festival in 1965.
Sheik Sadeek became the most prominent dramatist to emerge from the competitions. Rajkumari Singh also featured in it. But very outstanding in the Drama Festivals that followed was Francis Quamina Farrier.
With winning plays such as Manaka and The Plight of the Wright (among his most prominent works of that time) Farrier was to build on and move forward the momentum created by Pilgrim and Sadeek with such classic dramas of British Guiana as Miriamy and Porkknockers. These were plays that began to root themselves on the Guyanese society and its people. This was a very important stage in the development of Guyanese drama. The first modern phase was led by Cameron in 1931; the second was the true development of local drama in the 1960s; and the third was the rise of popular Guyanese drama after 1981.
Farrier was very much a part of that second movement. He was a Theatre Guild actor who won awards as Best Actor in 1965, a playwright and director. Plays like Air Partner and The Plight of the Wright offered satire and social commentary and were contributions to the growth of Guianese social realism. Air Partner uses satirical humour to take a critical look at the popular radio games in which people endeavour to win cash prizes that were prevalent and popular at the time. A family who won one of these prizes is suddenly descended upon by an army of creditors, needy and greedy relatives, friends and dubious others which threatened to leave them poorer than they were before they won this lucrative prize. It is a comment on human nature, parasites, greed and hypocrisy in a society.
The Plight of the Wright is a fantasy in which a playwright is on trial for sentiments expressed in a play with proletarian sympathies. It aims questions at a society with a misunderstanding of and a prejudice against underprivileged communities and their impoverished people. It uses a good deal of symbolism to attempt to address what it sees as a "plight" faced by playwrights in their quest for free expression.
Many Farrier plays are a part of the strong nationalist movement seen in Guyanese literature pre- and post-Independence. It forwards this type in drama, developing nationalistic drama in the sixties and seventies. These include Journey to Freedom, The Slave and the Scroll, Freedom Trail and Echoes of the Savannah.
Apart from being a member of the Theatre Guild and a part of the valuable leading developmental role that that institution played in training and building local theatre, Farrier was one of the country's most prolific dramatists in those times. His other plays include Border Bridge, Quitters, Something to Live For, Loafer's Lane, Young Skibby, and the screenplay for a Guyana/Suriname movie, Operation Makonaima. He also served as Director of Drama in the Department of Culture and was Creative Director for Guyana's Carifesta delegation to St Kitts & Nevis in 2000, and Director of the Public Service Drama Group.
In more recent years Farrier has turned his focus to radio and television. Perhaps his most prominent radio work has been the creation of a series of interviews with older citizens called 'The Eighty Plus Club' – a priceless archive of rare information. He has been a travelling camera for television with his wide range of documentaries, coverages and interviews. Among some of his best coups are his interviews with famous novelist ER Braithwaite (author of To Sir With Love). His association with Braithwaite also earned him a fellowship at the Banff School of Fine Arts, University of Alberta in Canada. Added to that were summer workshop courses at UWI, St Augustine, Trinidad.
His lengthy career on stage included acting in countless plays, directing and collaborations. One of these collaborations was with veteran Trinidadian popular playwright Freddie Kissoon. Farrier directed Kissoon's Calabash Alley and a number of sequels.
Farrier served the Theatre Guild in many capacities including as Playhouse Manager and Chairman. Having been nurtured there, he later became one of its nurturers. It is fitting that the pioneering drama The Tides of Susanburg has been revived for another run on stage by Sinoj Creations, and appropriate that it is being played on stage at the Playhouse. This is a deserving national tribute to Francis Quamina Farrier, one of the active forces in the development of modern local drama of social realism in the immediate post-Independence era.
Around the Web