This Tuesday December 16, 2014 is the 105th birthday of Edgar Austin Mittelholzer (1909-65), standard-bearer for Guyanese and West Indian literature. He is highly celebrated for several reasons, as one of the pillars of the literature and a pioneer in its establishment.
For this, the Guyanese nation honours his memory and achievements with a literary/intellectual monument – the annual Edgar Mittelholzer Lecture Series staged by the Department of Culture in the Ministry of Culture Youth and Sport. The 2014 Mittelholzer Lecturer was Dr Juanita Cox Westmaas, currently the leading authority on the life and work of this novelist. The lecture was delivered at the Theatre Guild on November 19 and played upon some of the writer's peculiar characteristics in her punning title, 'Edgar Mittelholzer's Creative Genes(is) and the Geni(us) behind it.' This man of many idiosyncracies has been renowned and renounced for his deliberations on sex as much as for religion and the supernatural/magical, and Juanita Cox focused on religion in her presentation.
The title reveals the wit of the lecturer as much as that of the novelist. Mittelholzer was certainly possessed of extraordinary creative "genes", the root and genesis of his prolific and talented career. Creative writing was so much a part of him that his perseverance to be a professional writer is legendary. Religion was very important to his work and thought, thus "Genes(is)" speaks to both his creative beginnings and his treatment of Christianity – hence the biblical reference to the Book of Genesis. Further, his genius allowed him to explore religion (including Buddhism) in his real life intertwined with his fiction, which was also preoccupied with the supernatural and the magical, thus the reference to the geni in "geni(us)". He used it as technique in A Morning at the Office (1950) and his My Bones and My Flute (1955) is popular for the haunting spiritual possessions in which it abounds.

Mittelholzer's legendary perseverance as a writer is also closely tied to his other preoccupations, such as sexuality. This element in his novels, from as early as Corentyne Thunder in 1941, must have bothered many publishers and contributed to the serial rejections in very conservative times. They even denounced his work as "pornographic". Those conservative times and attitudes ring a familiar bell; when first published, the play Who's Afraid of Virginia Woolf by Edward Albee was chosen as the winner of the Pulitzer Prize, but the foundation refused to award it because of the outrageous sexual and profane content. Where this is concerned, Mittelholzer was also notorious for his refusal to cut, edit or amend as requested by publishers, leading to rejections and fallings-out.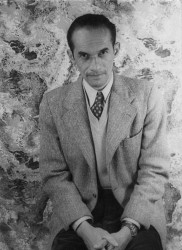 Those were all part of his "genes" and "genius" as termed by Cox. Other critics such as Michael Gilkes have commented on his eccentricity while at the same time remarking on his discipline and purposefulness. These qualities contributed to the first reason for his distinguished place in Caribbean literature. He was a pioneer. He was the first professional West Indian writer to earn a living entirely from his work as a writer, and he started his determined drive to do so from the very beginning of his career with the sale of copies of his first collection of short stories, Creole Chips in New Amsterdam in 1937. He had a stint in the Royal Air Force during World War II, but continued his purpose and was perhaps the first of the West Indian writers who began their 'exile' in Great Britain where West Indian literature developed and established itself. Next is his prolificity: His busy career produced some 26 works published, including his autobiography A Swarthy Boy (London: Putnam, 1963). Only four of those were not published in London, and none before him achieved this.
The very important place and the high acclaim Mittelholzer is accorded in Guyana are also owed to the substantial contribution he made to the rise and establishment of modern Guyanese literature. This national literature was actually founded by Egbert Martin (Leo) in the 1880s when poetry and fiction that may be identifiably Guyanese were produced by the first local native writer in the Caribbean to publish collections of poetry and fiction, as outlined by David Dabydeen who investigated, searched for and found (with the aid of chance) the only surviving copies of his work. While Leo created and set the tone for the national literature that was to develop after him, Mittelholzer was the next writer to properly fix it, make it known and place it firmly on the world map.
Foremost among his achievements in this regard is his contribution of social realism in Guyanese fiction. This fiction developed in Jamaica starting around 1913 with the novels of H G de Lisser (Herbert George), editor of The Gleaner newspaper. He wrote a series of popular novels which were first serialised in the newspaper, establishing fiction in the Naturalist tradition that dramatised social conditions and issues with local characters and situations. Some of his work, like The White Witch of Rose Hall included supernatural and spiritual beliefs of the people, such as obeah, which he attempted to treat seriously, even if sensationally. Alongside De Lisser, a police officer named Caude MacKay wrote the first collection of poems tackling social struggles and proletarian concerns in 1911 and 1912 (Constab Ballads and Songs of Jamaica) before producing his own novel of social realism much later.
Social realism in the Caribbean solidified with the direct and deliberate intervention of CLR James who led the 'Beacon' group starting in the late 1920s on a mission to write and promote literature devoted to "ordinary life" in Trinidad. They produced the journal Trinidad (1929-1931) and Beacon (1931-1939) whose short stories in language and subject created the 'Backyard' tradition, as well as novels with the struggles, politics, race and class issues confronting the growing Trinidadian society. It was this type of fiction that Mittelholzer emphatically introduced into Guyanese writing in 1937.
The first novel to do this for Guyana was Corentyne Thunder, which as said above was written in 1937 and eventually published after numerous rejections in 1941 while he was still in British Guiana. This was the first novel to actually treat at realistic level the life of East Indians on the Corentyne. Despite earlier works like Lutchmee and Dilloo by an English public servant Edward Jenkins, this novel truly examines peasant life in realistic conditions and a credible setting. The tale of 'Ramlogan the cow minder' goes into class, race, the rural and the urban New Amsterdam communities, the people and their customs in a way not done before.
Mittelholzer is celebrated for his own theories of fiction, delving into the magical and spiritual, with A Morning at the Office as a good example, and his real deep interrogation of the supernatural as in the famous My Bones and My Flute, but he continues his cementing of Naturalism in such works as The Life and Death of Sylvia (1953). It would be hard to find a better document of colonial society in old Georgetown than what is dramatised within the setting of that novel, in 2010 made better available through a reprint by Peepal Tree introduced by Juanita Cox. Although Mittelholzer had other interests than he explores in this work, it recreates the society with a range from the expatriates, the social elite, to the whorehouses and vendors in Stabroek Market, with a brutal examination of the perennial evils of class, colour and race, greed and injustice. It is a combination of these that plague and condemn the tragic life of Sylvia, narrated sensitively, while also presenting an unblushing mirror of old Georgetown and its colourful social history.
To those may be added his poetry and short stories. Mittelholzer produced poems, particularly during his early career living in British Guiana. Some were published in Kyk-Over-Al between 1945 and 1950. That is not unlike a few other novelists who were poets before their successful careers in fiction. Wilson Harris had many of his poems appear in Kyk-Over-Al during that same period, and later; poems and a short play even accounted for his first publication – Eternity to Season (1953). George Lamming was a poet before 1953.   Mittelholzer's verses include one that has good historical value for what it says as well as for its provision of external evidence. 'Meditations of A Man Slightly Drunk' tells of the long 'tradition' of literary evenings and poetry sessions in which writers and other intellectuals indulged during the rise of Guyanese pre-Independence literature. These were characterised by the consumption of astonishing volumes of rum. That must have been the practice while Mittelholzer was still in British Guiana and the evenings were still in session through the 1960s. Martin Carter was involved and David de Caires described them in narratives. There are stories of George Lamming during visits partaking in them, but only pretending to drink the rum, which he secretly poured on the floor in a corner.
The importance of Mittelholzer also takes into consideration the significance of even his lesser and little known works. They are also crafted to reveal his prevailing preoccupations and support interpretations given to his more outstanding novels. Take, for example, a novelette that normally escapes attention because it is not well known – The Adding Machine (1954) published in Kingston, Jamaica. It carries a sub-title 'A Fable for Capitalists and Commercialists' and indeed addresses capitalist greed and corruption while reflecting Mittelholzer's interest in the extra-human, the supernatural existence even in inanimate objects like a table (in A Morning at the Office) and an old adding machine in this short novel. A typical capitalist commits wrongs against humanity, exploitation, sexual inconsiderateness, class contempt among other things. Each time he calculates his wealth, commits a wrong and enters figures on the adding machine; he is consumed bit by bit until the machine completely obliterates him in repulsive and horrible fashion. The machine was itself a spirit of vengeance, adding up his sins while he thought it was recording his gains, until he is brought to account.
Another virtual unknown is his short story They Know Not Whom to Mourn, that tells of a member of the family lying upstairs on his deathbed with many relatives around the house preparing to mourn him. But he miraculously recovers and in the middle of their celebrations they discover one of their kin sitting lifeless in a chair downstairs with a bottle of poison next to his hand. No one paid attention to whatever troubled him, and ironically, they were expecting the death of the wrong person. It is a typically Mittleholzeresque haunting tale that draws attention to the unknown, the brooding and the unexpected.
In Mittelholzer's hometown he is remembered by an empty plot of land on Coburg Street where his house used to stand. It is neatly packaged: a well-manicured plot of land enclosed by a well-kept fence, even with flowers, but empty. He has immortalised New Amsterdam, the Berbice River with its history of ghosts and slave rebellions. The nation needs to immortalise him in return, and that is why the annual lecture series in his memory is maintained as such a monument to his contribution to Guyanese and West Indian Literature.
Around the Web