by Leon Moore
The Black-bellied Cuckoo (Piaya melanogaster) lives in the rainforests of the Amazon as well as Guyana.
Uncommon in its range it is a frequent visitor to the Canopy Walkway in Iwokrama and with its striking blue and yellow eye-ring, black belly, grey crown and red bill, it is a rewarding sight.
The Black-bellied Cuckoo is known occasionally to lay eggs in the nests of other bird species and have the other birds foster its young.

The time from egg laying to young leaving the nest is 17 days, among the shortest for any bird. Despite this and foster parenting, most pairs raise only one brood a year.
Some interesting facts about Cuckoos: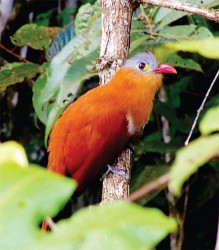 They eat many spiny caterpillars and these spines stick in the lining of their stomachs which they shed periodically to remove the spines.
They have a tendency to call before rainfall and this may explain why they are also called 'Rain Crows.'
"Iwokrama's mission is to develop strategies for conservation and sustainable development of the tropical rain forest system for local people in Guyana and the world at large. Come visit us in the Rain Forest or at our office, 77 High Street, Kingston, Georgetown. We are online at http://www.iwokrama.org. Also check for updates on our Facebook Page- https://www.facebook.com/#!/IwokramaInternationalCentre"
Around the Web