Local Soca star Jumo Primo yesterday released his brand new single, "No More Love".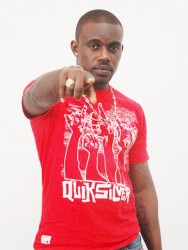 Giving a preview to The Scene this week, Jumo expressed that he wrote the song based on his observations. "It is how I see the world," he said. "My country and its people having no respect for life and give up live and chose hate… Their love for money, vanity and power cause innocent people to lose their life."
He continued to say that he is saddened to see how mankind had changed into beasts, with no respect for God, people nor animals.
The song was produced by Ernie Trefall of Reflex Studios, Toronto, Canada. But after being introduced on the local airwaves yesterday we will see the release of the complimenting music video on HJTV, NCN and HBTV9 today! The video was produced by Brian Roberts of Honest Illusions Production Company.
"This song and video is close to my heart and I hope people will see it and love it and if it can change one person it's a start of bringing back the love we should have for each other," Jumo concluded.
Around the Web