Come June 6, Merundoi Incorporated will stage Guyana Prize winner Mosa Telford's award winning play Before Her Parting at the National Cultural Centre.
Season 4 of Merundoi, a radio serial drama, which focuses on domestic violence, is currently being aired and is a component of the company's project: 'Modelling and Reinforcement to Combat Domestic Violence'.
Before Her Parting makes a powerful statement on domestic violence, and therefore is the perfect vehicle to start the conversation, which is expected to flow.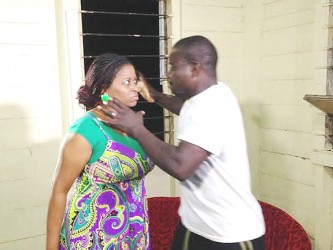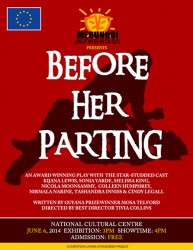 On June 6, there will be an exhibition of services offered by various organisations, such as the Ministry of Human Services, Help and Shelter, the Guyana Police Force, IPED and the Small Business Bureau. Remarks will be made by Minister of Culture, Youth and Sport Dr Frank Anthony and Head of the European Union Delegation in Guyana Ambassador Robert Kopecký. This will be followed by the play and a panel discussion. On the panel will be: one male and one female survivor, representatives from the Men's Affairs Bureau, Help & Shelter, the Guyana Police Force and the Guyana Women Lawyers Association. The discussion will focus on the issues coming out of the drama and how our subsequent behaviour as individuals and communities can make a difference.
Before Her Parting, directed by Best Director Tivia Collins is a tragedy that tackles the alarming rise of gender-based violence in our society. According to Collins, the play seeks to tell one of the many often heard abuse stories. She said it chronicles the cry for help from an abused woman, Morana (Melissa King). "The only difference is that character is already dead," Collins mentioned. Additionally, the play makes one wonder what stories, those who have passed on, would tell and if they wished to live again.
Kijana Lewis plays Andy, Morana's abusive husband. Nicola Moonsammy is Lorina, Andy' mom, who tries to find out the truth about Morana's character, and Sonia Yarde plays Death.
Also appearing in the play are Cindy Legall as the Teenager, Tashandra Inniss as the Mother, Colleen Humphrey as the Grandmother and Nirmala Narine as the Woman, who share their stories to help Morana find peace and move on. The production will be free to the public and secondary schools will also be invited through the Ministry of Education.
Around the Web