While she is still basking in the glory of being named one of the ten finalists in the recently held Miss World pageant, Miss Guyana Rafieya Husain has no intention of losing her grip on fighting domestic violence and with the Miss World Caribbean crown on her head she is taking the fight regional.
Husain broke the more than four decade drought Guyana had on the Miss World stage when she was named in the top ten and this was largely due to the fact that she won a Beauty with a Purpose award for her focus on domestic violence.
While she focused on the horrific story of 22-year-old Nazalena Natasha Houston who lost one of hands, fingers from the remaining one and most tragically her two children after her reputed husband Richard Lord went on a rampage, Rafieya also revealed that she was a victim of domestic violence and this was the main reason behind her 'Shatter the Silence' campaign.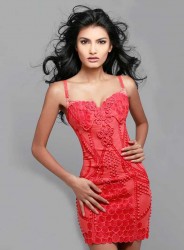 As she told The Scene in a recent email interview, she could not have asked survivors to speak on the issue if she herself did not share her dark moments with verbal and emotional violence.
She revealed that she left the relationship "before it became physical" and while she was in it for a year and a half she never reported the abuse.
The script of individual stories maybe different, but Rafieya said that the impact and the scars are the same and what is not different is that "it never leaves you." She revealed that while her family and friends had an idea about what was happening no one knew the extent of it.
"The first time I spoke up about my abuse was during the national pageant in Guyana. I couldn't encourage other women to break their silence if I couldn't break mine," Rafieya stated.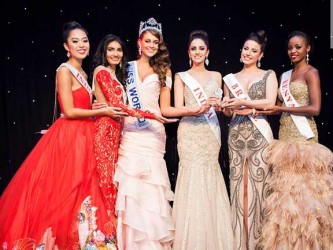 She focused her time on energy on an issue that was personal and one that so many Guyanese women suffer from daily. Some might say it has paid off as it won her a regional crown and international acclaim on a world stage. But for Rafieya, "the journey is not over" as the need to end domestic violence will always be there. Hence she is marching on with establishing the Shaffeek Khan Centre for battered women (Shaffeek Khan was her late grandfather), which she said will be officially opened next February.
"We are happy to say that we have partnered with Blossom Inc whose mission is to build and strengthen children's and families' relationship to safeguard the physical and mental welfare of all children," Rafieya said.
She revealed that Blossom Inc will be responsible for staffing the centre with qualified and trained personal and her next project will be the construction of a safe house for domestic abuse victims. Because of the need for privacy and to protect the victims, the location of the safe house will not be disclosed.
"For women who are in an abusive relationship, it never changes. They will cry, they will beg, they will tell you that things will be different, and maybe for a day or even a week it will be, but the abuse will come back," Rafieya forewarned.
She made it clear that the only way a woman can regain her freedom is to leave, seek help and start deciding what makes her happy and what she needs in her life.
The Miss World experience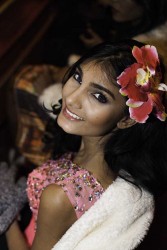 Rafieya describes her participation in the recently concluded Miss World pageant as a once in a lifetime experience and opportunity; she was proud to represent Guyana.
"It still hasn't hit me that I made it into the top 10 and was announced Miss World Caribbean. I feel so honoured that I've made Guyana and the Guyanese community proud," the newly crowned regional queen said.
As Miss Caribbean Rafieya said she is contracted for a year with the Miss World organisation and during this period she plans to visit other Caribbean destinations and continue to campaign for women to shatter the silence of domestic violence.
"Domestic violence is a worldwide issue, and it is my hope to eradicate this issue one country at a time," said Rafieya.
For the new Caribbean queen, the Miss World pageant is her last. She revealed that it was the 'Beauty with a Purpose' segment of Miss World pageant that was the main reason behind her participation.
There are some who believe that pageants, instead of empowering women in fact exploit them, and asked to comment on this theory Rafieya said the Miss World pageant does not have queens but rather ambassadors.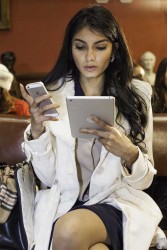 "It takes an enormous amount of strength, confidence and passion to be on a stage, showing the world that you have what it takes to represent a brand of such high standards," she posited.
For ladies who might be thinking about entering the Miss World Guyana pageant, Rafieya says "go for it" but they should think of it as the "greatest, once in a lifetime, job you could have in the world!
"A chance to not only make your loved ones proud but your country as well. You have to have a love and passion for what you do in anything and being a part of Miss World isn't any different."
Apply yourself, she encourages while adding that it should be done with all your heart and you can never fail.
"God forbid you don't get that crown, always remember, on a different night with a different panel of judges, the outcome may be different. That is only one panel of judges so don't let the results change your outlook of pageants or even yourself," she encourages.
Rafieya will return to Marymount University next fall to continue working towards a BA in Marketing. She will continue her 'Shatter the Silence' campaign with the hope of her foundation, Rafieya's International Vision and Hope (RIVAH) becoming an international non-government organisation where persons can seek help when dealing with domestic abuse.
"I have dreamt of furthering my modeling career with the hope of one day gracing the pages of Victoria Secret. One day hopefully, no one knows what the future holds," the queen said of the future.
Rafieya won her first crown as Miss India DC 2010. Since then, she has participated in several pageants over the years and fashion shows in Miami, New York and California. She was the first runner-up and Miss Photogenic for the 2010 Miss India USA Pageant, Miss Teen Virginia in 2011, winner of Top Model Virginia and Top Model USA in 2010 and 2011 amongst other titles.
Before her recent success on the Miss World stage, Guyana's best position in the Miss World pageant came in 1967 when Shakira Baksh was named second-runner-up. Others include Adrienne Harris, 5th runner-up; Pamela Lord, 3rd runner-up and Jennifer Diana Wong who placed in the top ten. Guyana began placing in 1966 with Umblita Van Sluytman who secured a spot in the top 15 and it continued every year thereafter until 1971 with Nalini Moonasar.
Around the Web