Public and private sector workplaces will come under closer official scrutiny, Minister in the Ministry of Social Protection Simona Broomes told Stabroek Business earlier this week, adding that her ministry will be exercising much greater vigilance in matters that have to do with the safety and health of workers.
In an extended interview with this newspaper on Wednesday, the miner turned minister stated her determination to nudge the private sector in the direction of a higher level of compliance with the country's labour laws and an enhanced sensitivity to the concerns of their employees.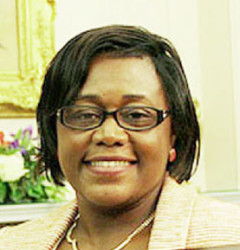 "We will be visiting workplaces including factories and restaurants to ensure that employers are complying with regulations regarding health and safety, lunch breaks, payment of wages and salaries, accidents and compensation and other entitlements under the law. I myself will be visiting some of those business places with teams from the ministry," the minister said.
The initiative to compel compliance with safety and health and other labour regulations will also extend to downtown commercial enterprises, according to Broomes, who told this newspaper that she will be seeking the support of the Private Sector Commission (PSC) and the Georgetown Chamber of Commerce and Industry (GCCI) in interfacing with the wider business community.
Broomes told Stabroek Business that her department has already been receiving the support of the National Insurance Scheme (NIS) in its efforts to bring pressure to bear on employers who have long been delinquent in the timely payment of their employees' contributions. Broomes said that in investigating general complaints made to her ministry by employees of guard services and other entities including complaints relating to dismissals and compensation payments, her staff was under instructions to work with the NIS to ascertain the status of workers' contributions. The minister told this newspaper that she had been part of interactive clinics between the ministry and employers and employees during which outstanding matters, some of which had to do with payment settlements, had been amicably addressed.
Asked to comment on widespread allegations that the Ministry of Labour had been considerably negligent in its pursuit of workplace accidents as required under the law, the minister said that it had come to her attention that, under the previous administration, for ill-explained reasons, labour officers were under instructions not to undertake such investigations.
During the interview with the minister this newspaper was shown several accident investigation reports, including accidents in the mining sector, prepared by the ministry since her accession to office.
Meanwhile, Broomes said her ministry will be stepping up its work to ensure workplace compliance with safety and health regulations during workplace visits by officers who will prepare reports designed to make employers aware of shortcomings and to provide directives with regard to remedial action. Asked if this will also apply to state agencies Broomes responded in the affirmative pointing out that there are cases in which public sector workplaces are in need of remedial work that better positions them to be compliant with safety and health regulations. Since her appointment as Minister in the Ministry of Social Protection, Broomes has attracted public attention for her hands-on approach to addressing issues that fall within the scope of her portfolio.
"My passion comes from my compassion. Workers' rights is my gold and diamonds. As far as I am concerned one death arising out of a safety issue is too many," she told Stabroek Business.
Around the Web