Over time and the advent of modern medicine notwithstanding, Guyanese health-seekers continue to evince an interest in so-called 'superfoods,' said to be nutrient dense foods that are especially beneficial to health and well-being.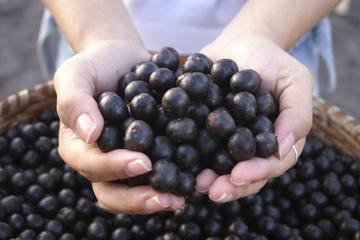 Last weekend Vanessa d'Aguiar took her Acai products—juice pulp, wine, jam and ice cream—to the Sophia Business Exposition.
The Acai berry is widely believed to be one of the more popular 'superfoods' and once you get over the hurdle of understanding that, often, myths are inevitably attached to the healing properties of some of these products, you come to appreciate the remarkable flexibility of the Acai berry. Its value, we are told, reposes primarily in its antioxidant properties.
d'Aguiar lives at Siriki Sands, Upper Pomeroon, eight miles from Charity. The Acai berry grows plentifully at Siriki. Its commercial value has grown over the years and these days she buys the berries at around $30 per pound.
On Sunday, d'Aguiar's Acai products attracted a considerable amount of attention among visitors to the Expo. People were tasting the products and, it seemed, liking them. Only a few bottles of wine were left from the two earlier days and those went quickly. The ice cream, too, proved popular with visitors to the booth and sold well.
d'Aguiar was upbeat about the response. Acai products are not popular on the coast and her New Haven Sands Acai Berry enterprise only got underway earlier this year. She had investigated the berry on the internet and had done some initial trials. Being a midwife she was interested in its alleged health properties. Those of her friends and patients who had tried it had apparently approved. Last weekend's Business Exposition offered her the first real opportunity to test the products on a bigger stage.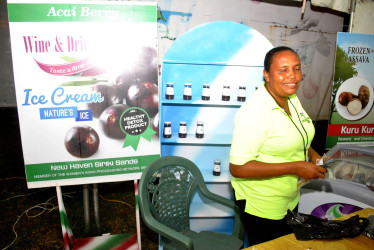 d'Aguiar is one of the 11 vendors whose attendance at the Expo was largely sponsored by Sterling Products Ltd. She also has an arrangement with the company that allows her to supply the Acai berries used by the company to manufacture ice cream. Over the weekend the ice cream was available in Sterling packaging at Sophia. It appeared to be amongst the Expo's best sellers.
Sophia was a test of the marketability of the Acai products. In a world of competitive marketing where product packaging, bottling and labelling provides an edge, d'Aguiar's products still have a long road to travel. Save and except for the ice cream, the other Acai products—the wine, juice, pulp and jam—are below what one might call international standards. These days, however, those shortcomings are easily remediable. It is the marketing that could prove a challenge. Not that there may not be a considerable local, even international market for Acai products. The extent of the global competition, however, means that reaching and penetrating those markets will require a considerable amount of marketing investment. d'Aguiar is not yet thinking that far ahead.
At Sophia last weekend Sterling Products was offering quarter pint cups of Acai ice cream for $125. Sales volumes were indicative of an approving clientele. d'Aguiar herself was offering jam at $300 per bottle and the juice and pulp for $700 each.
She already has a modest informal marketing initiative in Georgetown though she needs to engage the Food and Drugs Analyst Department as well as improve her packaging and labelling if her products are to make it to local supermarket shelves. Once she clears those hurdles she will be seeking to deepen her relationship with Sterling Products.
Since the start of her enterprise d'Aguiar has made baby steps, albeit significant ones. Her full-time job in the medical profession means that her manufacturing sideline is growing slowly. Recently, however, she invested in a $197,000 industrial blender, which she says will step up production. The next step, she says, is to find a way of financing the significantly improved presentation of her products.
Around the Web