(Trinidad Express) – Sunday's Dimanche Gras show at the Queen's Park Savannah in Port of Spain could best be described as a night of excellence.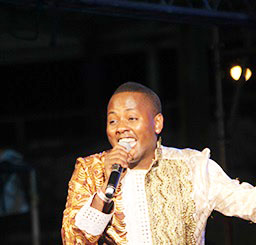 Despite missing some of the customary veterans like Dr Hollis "Chalkdust" Liverpool, Weston "Cro Cro" Rawlins, Michael "Sugar Aloes" Osouna and Kurt Allen, quality was never lacking as all twelve finalists came with their A-game.
From masterful renditions to resplendent wardrobes; compelling lyrics to enthralling theatrics, including live sheep on stage, patrons were kept entertained from the onset.
But the evening, however, belonged to Roderick "Chucky" Gordon.
The defending Calypso Monarch did a good job in the delivery of his first instalment, "The Rose", a song in which he describes the People's Partnership government as having nine lives like a cat because despite the battering it has received and the opinion that it's dead, it has managed to stay together and relevant.
While outlining that the Prime Minister's popularity remains high since she deflects attention and blame away from herself and onto her minister, he sang, "This is how she does manage to tote around all that baggage. Dressed up every day in a fresh set of clothes, don't mind what is left exposed. Corruption rife and it stifling we nose, Still the PM comes out smelling like a rose."
In round two Gordon gave a masterful rendition of "I Believe", a nation building calypso in which he spelled out his belief in Trinidad and Tobago and its ability to bounce back despite the many challenges it faces.
When Gordon won the judges' approval around 1 am, he joined a list of greats, which includes Atila The Hun (1946-1947); Striker (1958-1959); Sparrow (1962-1963, 1972-1974); Duke (1968-1971); and Chalkdust (1976-1977, 2004-2005), who have won back-to-back titles.
Devon Seale's first song "My Humble Plea", in which he begged the government to demit office, won him thunderous applause, however, his round two offering titled "Soul Judges" was a bit different and was not as well received by the audience, and maybe the judges as he had to settle for second.
Copping third position was Karene Asche, who was majestic in both appearance, with a glittering sequined gold dress, and delivery of her second song "Every Knee Shall Bow." In sending a warning to the high and mighty that one day they will have to bow and acknowledge there's one supreme Creator, Asche bowed to her knees during her performance and then leant backwards until her head touched the ground. It was a gesture that evoked a solid round of applause from the audience.
The top three along with finalists Heather Mac Intosh, who as fourth, Myron Bruce, Brian London, Duane O'Connor, Sheldon "Mistah Shak" Noel and Victoria "Queen Victoria" Cooper, represented the new vanguard of calypso, signalling that a change of the art form guards has taken place.
Gordon took home a cash prize of one million dollars while Seale copped $500,000 and Asche, $250,000.
Around the Web