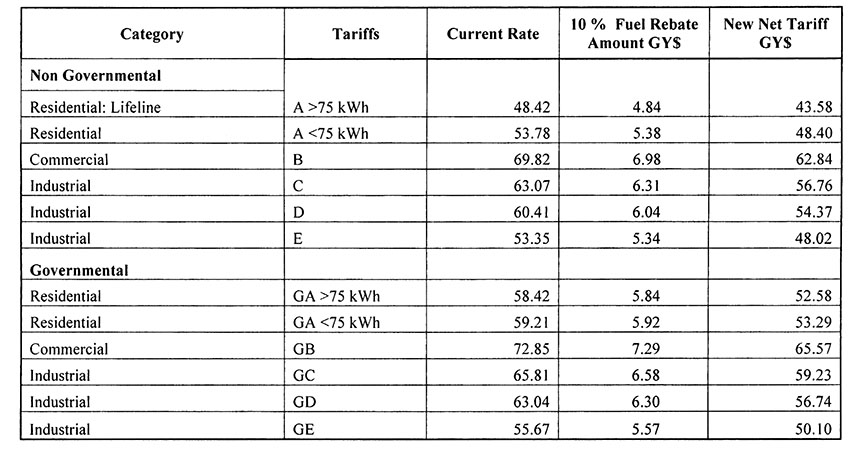 A day after President Donald Ramotar announc-ed a 10% dip in electricity rates, Chairman of the Guyana Power and Light (GPL) Board, Winston Brassington yesterday stated that the reduction will be reviewed every quarter.
"I want you to recognise that this fuel rebate is premised on the reduction of fuel prices and is likely to be revised and adjusted on a quarterly basis," Brassington told a press conference at GPL's head office in Kingston yesterday. Throughout the event, he reiterated that while GPL can afford the 10% reduction, the calculations are based on the current price per barrel of crude oil and GPL's averaging costs at US$70 per barrel.
Brassington said that on a quarterly basis, the reduction will be re-examined and necessary recalculations may occur which could mean that the reduction could cease.
For 2015, the state-owned utility has budgeted US$70 million for fuel costs. Last year the budget was US$120 million but the corporation actually spent US$105 million.
GPL used a US$70 per barrel of crude oil average cost to calculate its 2015 fuel budget. However, the company uses heavy fuel oil which sells for approximately US$6 less. The current cost per barrel of crude on the world market is approximately US$55. In June of last year, the average cost per barrel of oil was over US$115. GPL buys approximately one million barrels of oil annually. According to Brassington, the US$30 "buffer" was substantial and the reduction was cautious. "I believe what we are doing here is modest, it is reasonable, it is affordable, it passes on benefits, but it doesn't deprive the company from having a sustainable position and sufficient cash flow to cover its expenditure," he asserted.
The 10% reduction will add up to roughly $3 billion and GPL is looking at $7 billion in savings in the 2015 fuel budget. "If fuel prices remain low we can maintain this reduction but if this all started to reverse in a really big way on a quarterly basis we will have to look to adjust," the GPL board chairman said.
He acknowledged that the reduction is close to general elections in May but said that fuel prices have been on the decline since June and it is not surprising that the corporation agreed to a reduction. However, GPL had remained silent on any possible reduction in electricity rates for months and only on Monday did President Donald Ramotar announce the reduction.
Head of the Presidential Secretariat Dr Roger Luncheon had previously stated that the public should not be expecting any reduction in electricity costs.
He had said that GPL's reliance on government subventions in the past made it a "peculiar creature." In a subsequent post cabinet press briefing, he had said that GPL was "favourably disposed" to the President's call to have rates reduced.
Brassington yesterday said that GPL is in a positive position to offer the reduction and cover its operating expenses. He said that when it comes to capital expenditure, however, the company would still be reliant on government for financing.
When asked by Stabroek News if the drop in global fuel prices was enough to cover GPL's annual subvention, Brassington responded that on the operating side the answer was yes but on the capital side, government assistance would still be needed. He highlighted that GPL currently has $29 billion in forgone revenue as part of its subsidising of power rates.
GPL's new rates will be effective as of March 1, 2015 and across the board for all residential, commercial and industrial customers.
The new GPL net rates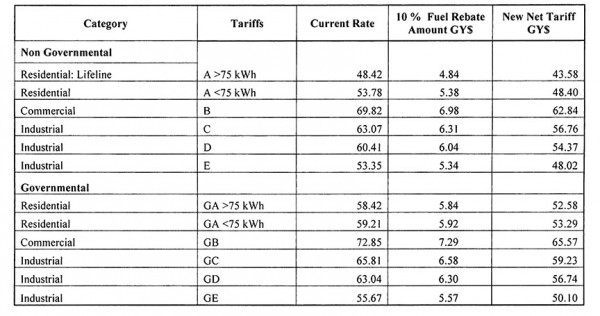 Around the Web