Marcel Griffith, the mother of Alex Griffith who was shot in the mouth, allegedly by a Police Cadet Officer, took the stand yesterday at the Georgetown Magistrates' Court and testified before Magistrate Fabayo Azore that she saw the policeman pull a gun on her son.
Cadet Officer Franz Paul is on trial for allegedly shooting the 15-year-old in the mouth.
Marcel Griffith, who resides at North East Squatting Area, George-town, said she lives with her four children including Alex, who is also known as 'Caveman.'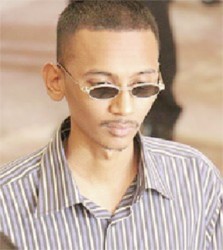 Led in her testimony by Police Prosecutor Inspector Vishnu Hunt, she recounted that during the month of April last year Alex was not attending school for two weeks but was working for the short time at a car wash. On April 30, she was home with her children and Alex and his brother were playing, when he left to go out on the road around minutes to 7 pm. Later, around 9.30 pm, she was lying on her bed when she heard voices calling for "Caveman" in front of her yard, the woman stated.
After she did not respond, three men went to her door, Marcel told the court, and when she got up and queried their presence, they told her they would like to meet Alex, who by then was back home. The woman said the men then left with Alex and she followed them as they walked down a dam and through a churchyard.
She said when she asked where they were going with her son they said they were taking him to a woman who sells plantain chips.
By then, she discovered that there were other men in the group. "There were like nine to ten persons, some of whom were wearing plainclothes and two wearing brown," Marcel told the court.
According to the witness, as they exited the churchyard it was a little bright and she was able to identify one of the officers, who was "wearing a glasses, appeared to be thin, brown skinned and taller than I am."
The said person, she further testified, took a gun, placed it in the air, clicked it and then put it to Alex's tummy. Marcel said she watched the person for about 15 minutes during which time it appeared that her son was being tortured.
Marcel positively identified Paul as the person she saw on the night of the incident.
"Alex was lying flat on the ground [with] two big guns [and] a little one … pointing to his belly but he just keeping screaming, 'I don't know anything,'" Marcel recalled.
She told the court that she and another girl watched as her son was beaten that night.
She explained though that they were spotted and one of the officers approached them and asked who they were and what they were doing there. Marcel said she answered, "I is the mother."
She said her son was then placed in a vehicle and when she enquired where they were heading she was told to the Brickdam Police station.
After the vehicle moved off, she said, she headed back home and it was when she got there that she heard something like a gunshot and she "hold onto my belly".
The woman said she "told my daughter about what happen and what I heard," and went to lie on her bed.
A few minutes later, she said, she received a message from her daughter.
She then rushed down to the Georgetown Public Hospital (GPH) where she saw Alex. "His skin was full of mud and blood," Marcel said.
He was admitted to hospital and was later discharged, after which she went to uplift a medical.   She was not given the medical, Marcel said, but it was eventually handed over to her by an officer at Mark Benchop's East Street office.
Paul is charged with discharging a loaded firearm at the teen with intent to maim, disfigure or cause bodily harm. He was also charged with inflicting grievous bodily harm on him. He was initially remanded on those charges, but later succeeded in obtaining bail from the High Court. .
At the time of the incident, Paul was said to have been personally investigating a robbery committed on his sister.
Griffith, who the police believed was a witness to the robbery, was picked up for questioning, although he had strenuously denied seeing anything.
The trial continues on February 26.
Around the Web