The Guyana Forestry Commission (GFC) recently honoured retiree Godfrey Marshall, former Deputy Commissioner of Forests and Director of the Forestry Training Centre Inc., for 42 years of service.
According to a press release from the Commission, the expertise of Marshall will be used by the agency, where he has been retained as a special advisor to the Commissioner of Forest and to mentor young managers, among other tasks.
In order to remain well positioned to accommodate the challenges and transformations necessary for sustainable management of the sector, the release said, staff must constantly upgrade their skills through training and capacity building.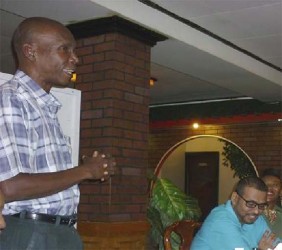 Further, this approach is essential for the Commission to fulfil its mandate as the epicentre of the green economy in Guyana, the release added.
Natural Resources Minister Robert Persaud, while presenting Marshall with his award, said there will be a restructuring of the Forestry Training Centre Inc. so that there can be more targeted training for GFC staff, forest producers and operators to allow for enhanced compliance within the sector.
Commissioner of Forest James Singh also extended congratulations to Marshall for his stellar service.
Around the Web