Former President Bharrat Jagdeo yesterday said that while thousands in Berbice have reportedly petitioned asking that he runs in the upcoming election as the PPP/C's Prime Ministerial candidate he was not interested.
"My position remains unchanged," Jagdeo told Stabroek News yesterday when asked if he will consider a return given the purported numbers on the petition lobbying for him. It is unclear who is the driving force behind the petition.
Jagdeo had told this newspaper before that he was not interested in a third term in office and further relayed through Cabinet Secretary Dr Roger Luncheon that he remains committed to not pursuing any further appointment to elected constitutional office or posts in Guyana.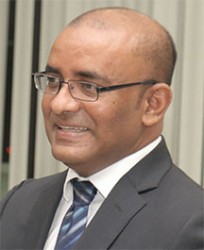 His response then came in the wake of a court petition filed by Cedrick Richardson who says that Jagdeo should not legally be prohibited from being a candidate for presidential election by Act No. 17 of 2001, which added two clauses to the 1980 constitution to allow for re-election only once. This is on the grounds that it restricts the voters' choice of candidates and such a restriction could only be effected through a referendum.
"He remains committed to not pursuing any further appointment to elected constitutional office or posts in Guyana," Luncheon relayed in a statement from Jagdeo at his press briefing two weeks ago.
Luncheon said that Jagdeo's stance on the issue was based on principle and that the filing in the high court seems to be a calculated attempt to create uncertainty given that the country is close to holding regional and general elections.
"This, his most recent statement reiterated a public position, one that he has repeatedly declared since he demitted office, after the 2011 general elections. This most recent statement is in part a response to apparently, the deliberate attempts to create uncertainty at this particular point and time in Guyana by the filing of a constitutional motion that essentially seeks to void constitutional amendments that limit the term of office of an elected president of Guyana," Luncheon asserted.
"Former President Jagdeo, who is named in that motion by the applicant, has disclosed his disinterest in the matter and his firm resolution not to entertain further constitutional post holding. The former president insists in his position of principle consistent with his earlier declarations to the public to all and sundry concerning this matter," he further added.
Social media has been buzzing with posts that government's strategic counter to the Alliance for Change's and A Partnership for National Unity's coalition was the comeback of Jagdeo. One such reason was because of advertisements that list Jagdeo as one of the speakers at the annual commemorative ceremony for party founder Dr Cheddi Jagan, which will be held in March at the Babu John Crematorium in Port Mourant , Berbice, the village where he was born.
When asked on Monday, about the Berbice petition. PPP's General Secretary Clement Rohee said
"I have been asking questions. I have indeed seen a copy of the petition and I have had discussions with the promoters of the petition to let them know, to give further clarification (with) respect to this petition…I have transmitted that clarification to the executives of our party and they are looking at it right now. We will probably be responding to them on the campaign", Rohee said.
He further went on to explain that Jagdeo is an executive of the party and Freedom House is his base as such he is welcome to work out of that office and that is the reason why he is there often.
Around the Web