Moco Moco Toshao Mark George was yesterday arrested on a rape allegation, which he believes is linked to his decision to deny President Donald Ramotar entry into the village for a political meeting after short notice.
Following an allegation that George raped a 13-year-old girl in the village, he was arrested at his home and was taken to the Lethem Police station.
Police, in a statement issued last night, did not identify George but announced that they were investigating a report of sexual assault allegedly committed on a 13-year-old female student.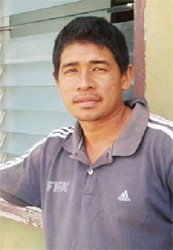 According to the timeline given in the police statement, although the assault allegedly occurred on February 1st, 2015, but a report was made to the police at Lethem on February 17, 2015, by the Regional Schools Welfare Officer based on information obtained. The report was made the day after George denied the president's visit.
However, police said it is believed that there was some attempt to "cover up" the matter initially by members of the village "because of who is the suspect in the matter."
Police added that they were earlier unsuccessful in contacting the victim and were only able to do so yesterday. "The suspect, who is a senior official of the village of Moco Moco, has been arrested and is in police custody assisting with the investigations," police added.
George's attorney, Nigel Hughes, earlier posted on his Facebook page that the alleged complainant and her family were contacted by the PPP Lethem representative after George had refused Ramotar entry into the village.
George told Stabroek News yesterday that Hughes would be travelling to Lethem today to speak with him but as for now he was "cooperating with the police."
"I don't know what they have me here for," he said.
George explained that he was dropping students from the secondary school in the region when he was confronted by policemen. He stated that he was dropping off the first child when he saw a village council vehicle and he greeted the occupants.
At that moment, he said, several policemen exited the vehicle and told him that they had received allegations against him and that he should go to the police station.
George, however, stated that he refused to go with them because he had to finish dropping the children home. "I told them that I couldn't leave the children on the road and they tell me go," he added.
According to George, when he arrived at his home, he was arrested and taken to the police station. He stated that he was in the station for several hours and the police were yet to tell him why he was arrested. George also indicated that he believed that his arrest had something to do with him denying the president and ruling party members access into the village.
The Toshao received a call on Monday from the People's Progressive Party's Rupununi representative Desmond Kissoon, who informed him that the president would be vising the village at 5pm on Tuesday.
George said that there was not enough time to facilitate the visit to the village and they did not want to be underprepared. He said he told Kissoon that such a visit would take at least three days to plan.
"I told him things didn't work like this. I need more time," he had said.
"If the president is coming to my community, I have to cater to them—How many people are coming? Do I have to hire cooks? Do I have to pay them to cook? The village only has one tractor, how will I get firewood from the jungle? The preparation itself will take from three days," he had said.
Under the Amerindian Act, persons other than those on official government business are required to get permission from Village Councils in order to access Amerindian village lands.
Around the Web