Another adjournment has been granted for the sentencing of Samuel Hinds Jnr, who has been found guilty of assaulting and threatening the sister of his partner.
Hinds Jnr, the son of Prime Minister Samuel Hinds, was due for sentencing by Magistrate Geeta Chandan-Edmond in Georgetown last week but a decision was deferred owing to the absence of a probation officer, who was due to report to the court on the defendant.
Chandan-Edmond has since been dismissed. When the matter was called before Magistrate Annette Singh yesterday, the court was in receipt of a letter from Hinds Jnr's attorney, who requested the adjournment. The new date is March 5.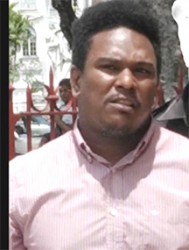 Hinds Jnr, 33, of Lot 83 Duke Street, Kingston, was charged with beating Tenza lane with a cane and threatening her with a gun on February 27, 2014. Lane is the sister of Hinds Jnr's current common-law partner.
It was alleged that Hinds Jnr had also called Lane a thief, threw her to the ground, stomped her in the face and dragged her by her hair around his house. The man had denied the charge at his arraignment at the Georgetown Magistrates' Courts.
Lane was also charged with assaulting the man but she was cleared after a trial.
Hinds Jnr's trial ended on May 23 last year, after he gave a sworn statement from the witness box.
He had been called to lead a defence after the court had ruled that a prima facie case had been made out against him. He called no other witnesses in his defence.
A ruling had been due since July last year but Hinds Jnr was been absent on all the subsequent dates set for continuance until earlier this month, when the guilty verdict was delivered.
Around the Web