Travis Lowenfield, the bus conductor who was shot in the gut on Thursday, succumbed early yesterday morning at the George-town Public Hospital (GPH) and two persons have since been held.
Lowenfield, 27, of Plaisance Squatting Area, East Coast Demerara (ECD) succumbed less than a day after undergoing surgery at the GPH. Doctors had told his family that Lowenfield was bleeding profusely and his body had rejected a blood transfusion.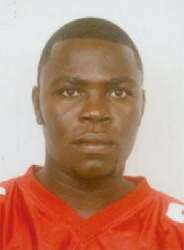 Mourning the shocking death of her brother yesterday was Anastacia Roberts, who told this newspaper that Lowenfield died around 1:30 AM.
Stabroek News had earlier reported that Lowenfield's assailant had entered his home and shot him before fleeing but both police and the dead man's relatives offered varying accounts of how he met his end yesterday.
Police, in a statement issued yesterday, said Lowenfield was involved in an argument with a man in his house over money and he was shot to his abdomen during the altercation. Police also confirmed that two men were arrested.
However, Roberts said she was told that her brother and a few of his friends were liming at his house and they were making jokes, which was customary. She was told that one of the friends told Lowenfield, "Give me the money! Give me the money you got in you pocket!" He refused and one of the other men, she learned, accidentally pulled the trigger of a gun that was pointed at her brother.
Roberts added that the money was removed from her brother's pocket, after which his friends departed the house.
She said it was moments after that Lowenfield, who was left alone in the house, called on his neighbour, Junior Robertson, who rushed to render assistance and took him to the hospital.
This newspaper understands that when Lowenfield reached the hospital, despite his pain he managed to mumble to those around him, "They shoot me for nothing at all."
Around the Web