A Guyanese singer was last week busted at the JFK International Airport after he travelled to the US to uplift two suitcases containing cocaine which he had given to another man to transport and who, unknown to him, had been busted.
After receiving a call from the man, only called 'the courier' in court documents seen by this newspaper, Mark Ferdinand booked a flight on Dynamic Airways on February 25 and was promptly arrested when he touched down at the airport in New York.
According to the complaint against him, prepared by Special Agent with the United States Department of Homeland Security Kyler Hardin, the courier was stopped by US authorities operating in Aruba on February 11. Following examination of his two suitcases, the authorities discovered 3,290 grammes of cocaine in the walls of the suitcases.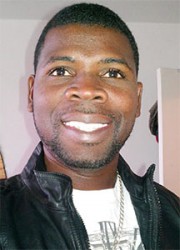 According to the document, the courier was deported to the US and while being interviewed by authorities he related that Ferdinand had given him the suitcases containing the cocaine and had asked him to take them to a relative in New York. He said he had agreed to transport the suitcases.
In New York, the courier participated in telephone conversations, recorded by the authorities, with Ferdinand about what should be done with the suitcases. Ferdinand then agreed he would travel to the US to uplift the suitcases.
He did as was promised and was promptly arrested at the airport and after his rights were read to him he agreed to waive them and spoke to speak to the investigating officers. During that interview he indicated that he had travelled to the US to retrieve the suitcases from the courier, whom he had recruited to take the suitcases into the US from Guyana. He also stated that he had intended to deliver the cocaine to another person who he did not name.
Ferdinand has since appeared before Magistrate Steven Lloyd Brounstein Judge Roanne L. Mann and was remanded. He is represented by state appointed attorney.
The passage of two more suitcases containing cocaine through the Cheddi Jagan International Airport once again points to inadequate security arrangement at the airport. The failure of the security arrangements at the airport has been highlighted by the many instances of cocaine slipping through.
Around the Web