A teenager was fatally shot on Sunday night at Providence, East Bank Demerara, in what is believed to be an act of retaliation.
Dead is Ryan Sooklall, 19, called 'Plyboard,' of 27 Zade Street, Providence Housing Scheme. The shooting occurred at about 6.35 pm in front of a shop at Parker Street, Providence, where Sooklall was drinking with a friend.
According to police, a man armed with a firearm approached and discharged several rounds at Sooklall before escaping on a bicycle. Sooklall was hit to the back, said police, who added that the wounded youth was later pronounced dead on arrival at the Diamond Diagnostic Centre.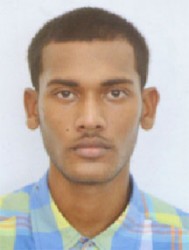 A witness, who asked not to be identified, said she saw a boy on a black bicycle approach Sooklall. She said the shooter just fired off his gun without uttering a word.
Sooklall's friend, she added, scampered off after the first bullet was fired.
According to the witness, the first bullet that was fired missed Sooklall. She said Sooklall then darted into the darkness and two more shots were fired.
The woman said she started to scream at the shooter and he hurriedly got unto his bicycle and rode off.
After the shooting, the woman went down at the Providence Police Station to make a report, while other persons searched for Sooklall in the dark yard.
The woman said there is no light in the yard apart from a bulb which lights the front of the shop. She said it took a considerable time before her family could have found Sooklall and, when they did, he was still breathing although he had two bullet wounds in his back.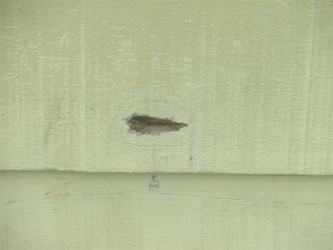 Sooklall, she added, could not speak because blood was oozing from his mouth and nose. Her relatives then took the man out of the yard and onto the road looking for help. However, no one was willing to lend a hand. Someone had to call one of Sooklall's friends to take him to the hospital and the person took a long time to respond.
'Is the company he kept'
The witness described Sooklall as a very respectable young man but noted that when she made the report to the Providence Police Station, she overheard that he had been implicated by his suspected assailant in a previous attack.
"[The shooter] made a report and said that Ryan and others threw [a] channa bomb at his house and fire rounds," the woman said. She added that the police had even went to Sooklall's home looking for him earlier in the day. She said the shooter warned the police they had better find Sooklall before he did.
"[He] does behave real bad and he like play that he is 'something,'" said a resident of the suspect, whom she described as a well-known criminal in the area. She noted that it was only several weeks prior that the shooter was locked up after someone accused him of robbery.
Meanwhile, Sooklall's mother, Shanaz Ali, said her son was an "alright boy," who used to help her out in the shop. "Boys must lime, boys must got friend but is the company he kept," Ali lamented.
She told Stabroek News that Sooklall was no bandit as was reported by some media houses. She said everything was provided for her son and he had no reason to be associated with criminality.
The man's father, Badrinauth Sooklall, added that his son wanted to be a businessman. He said that was what his son grew up seeing and that was what he aspired to be.
Ali said Sooklall was her last son. The devastated mother said another of her sons had died in an accident in 2010.
Around the Web