An 18-year-old was yesterday sentenced to spend one month in jail after he admitted to cursing his mother when she refused to give him money to buy drugs.
Kevin Christopher, 18, admitted to using abusive language towards Usha Balkarran on February 27, at Back Street, Houston.
Prosecutor Adduni Inniss, in her submission to the court, said Christopher frequently verbally abuses his mother when she refuses to give him money.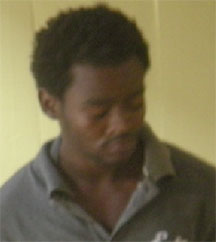 On the day in question, Christopher proceeded to his mother's home and asked her to borrow money to buy drugs. When his request was refused, he became annoyed and began to use a series expletives towards her, the prosecutor added.
However, in his explanation to the court, Christopher said that after he spent one night away from home, his mother became angry and she used a series of expletives towards him, causing him to leave the residence.
"After me sleep out a night and come home the morning… she start cuss me up and chase me out the house and she start throw out all me clothes," Christopher said, before adding that he then burnt the clothes and made the streets his home.
After listening to his explanation, Magistrate Annette Singh told Christopher that since he did not have anywhere to live, the prison might be a safer place for him and she sentenced him to one month in jail.
Around the Web